Massey's Mission to promote Grassroots Aviation includes illustrating the history of aviation in our region especially Maryland and Delaware with emphasis on the "Golden Age of Aviation" as well as the immediate post WWII era.
In June 2016 we accepted two large scale (1:5) models that enhance this mission.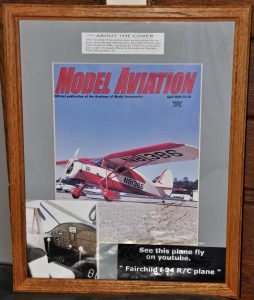 Ron Board of Bridgeville, DE has loaned the Massey Air Museum his replica 1940 Fairchild 24W-40 w/Warner Scarab engine built by Gene Hannah of Montgomery Alabama: 1/5 scale R/C, 91" wingspan, weight 18 lbs. (actual aircraft size: 36 ft 4 in wingspan, Length: 23 ft 10 in). The model F-24 was produced from 1932 ($3,360) until 1946 ($8,500).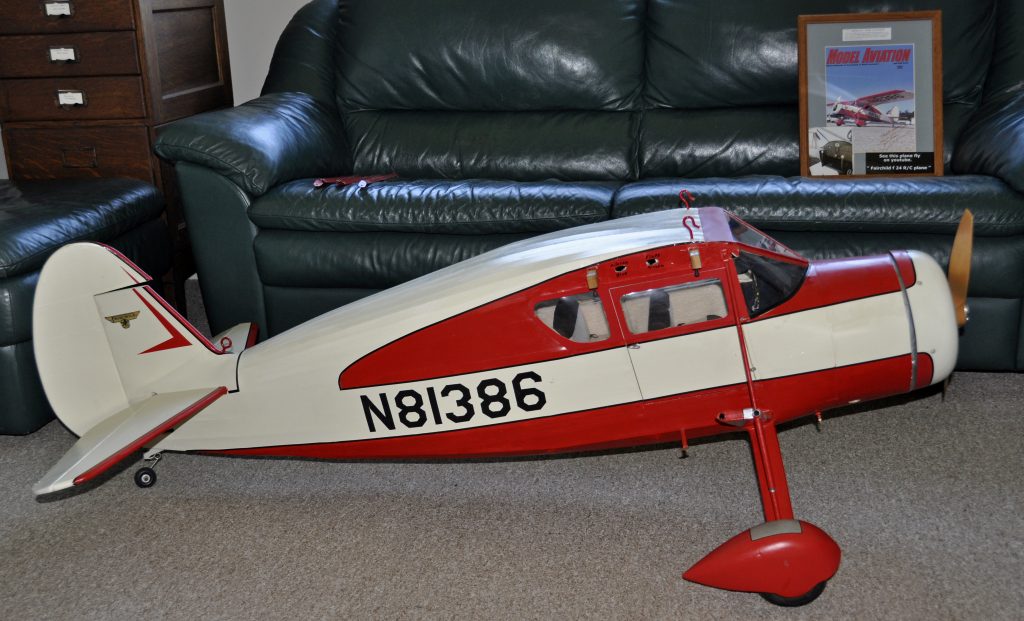 Fairchild became a Maryland aircraft manufacturer when in 1929, Sherman Fairchild purchased a majority stock interest in Kreider-Reisner Aircraft Company of Hagerstown, Maryland. The company moved to Hagerstown in 1931 from Farmingdale, NY. A Fairchild 71  monoplane, the Virginia, was taken as one of three aircraft by Richard E. Byrd  on his 1928–1929 expedition to the South Pole. Aircraft production was ended in Hagerstown, Maryland in 1984. Among other models, Fairchild produced the model 24 (2232), PT-19/PT-23/PT-26 "Cornell" WWII trainers (6397), C-119 "Flying Boxcar" (1183), C-123 "Provider" (307) and most famously the A-10 "Thunderbolt II" (716).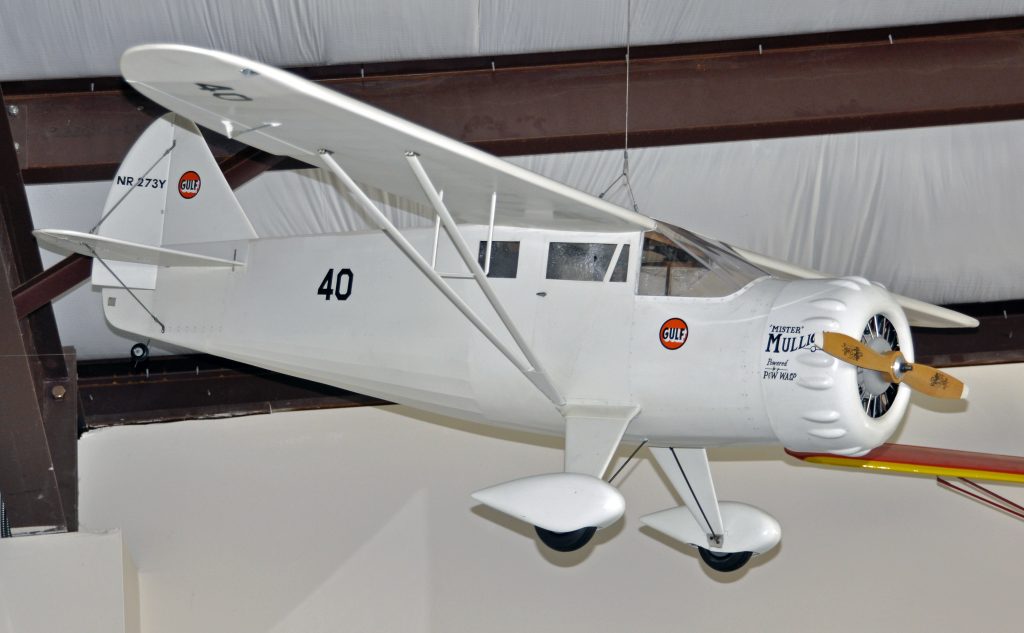 Ben Howard and "Mister Mulligan" were the only pilot and aircraft to capture both the Bendix and Thompson trophies in the same year when they did so at the 1935 National Air Races in Cleveland, OH.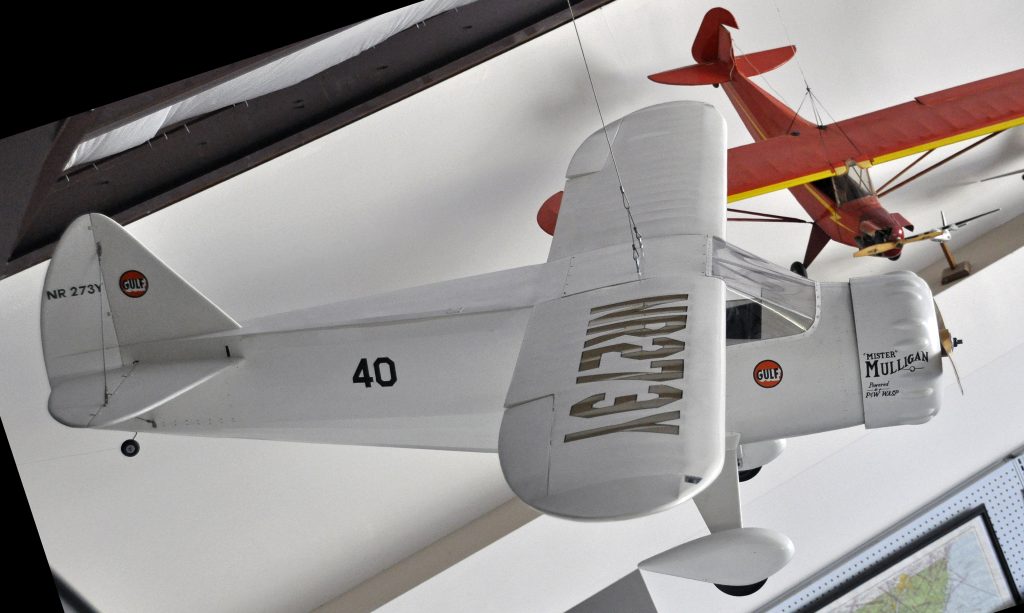 The DGA-6 (first flown in 1934) was the only racer of the thirties that had the distinction to be developed into a successful production aircraft for both the civil and military market (Howard DGA-8 through DGA-12).
NR273Y, the only DGA-6 built, was powered by an 850 hp Pratt & Whitney R-1340 Wasp S.E. nine-cylinder air-cooled radial engine (DGA stood for "Damn Good Airplane"). In the 1936 Bendix race the aircraft lost a propeller blade and crash-landed in New Mexico, USA, Howard and his wife were injured, the aircraft was damaged beyond repair.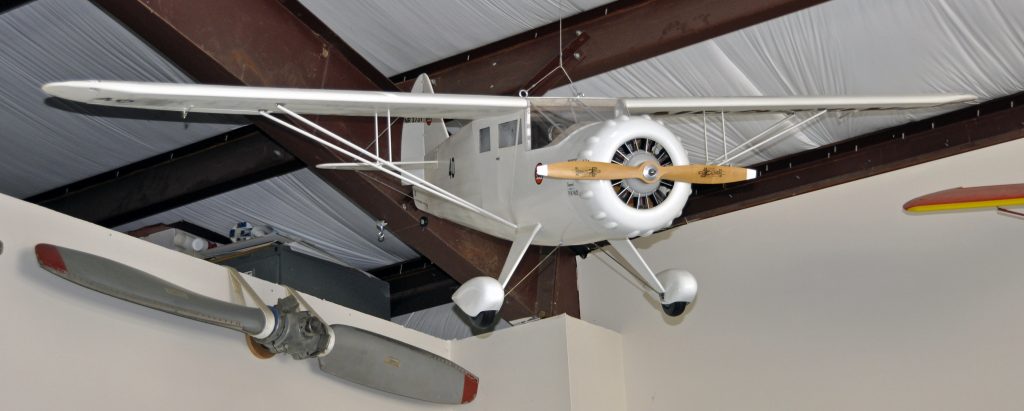 It was the only airplane ever designed for the specific purpose of winning the Bendix Trophy. The plane was designed and developed by Ben Howard  and Gordon Israel , who later became an engineer for the Grumman Aircraft Engineering Corp. Mister Mulligan was designed to fly the entire length of the race nonstop and at high altitude. Neither had ever been done before. Mister Mulligan won the trophy, and thus changed the way in which long distance airplanes were designed.
The Bendix Trophy was a cross-country race from the west coast to the site of the National Air Races  in Cleveland, Ohio, and typically was the starting event of the week-long aviation festival. The Thompson Trophy was awarded to the winner of the unlimited division in closed-course pylon racing at the National Air Races.