The MASSEY AIR MUSEUM honored Alberto H. Santa Maria, Cmdr., U. S. Navy (1924 – 2010) at the 17th Annual Open Hangar Party & Fly-In held on December 3, 2017. As a tribute to Alberto, our "Corsair" was restored and repainted to represent the F4U-5 Corsair shown in a photo as flown by (then) Lt. Santa Maria. The photo was taken by a Navy photographer after a deck strike accident aboard the USS Palau (CVE-122) in 1949. While on a cruise off Newfoundland with Helicopter Development Squadron Three (VX-3) out of Atlantic City, NJ, Lt. Santa Maria received an early cut command from the Landing Signal Officer (LSO) with the result seen here – however, the LSO, not Santa Maria was held responsible. While this could have been a fatal accident, it was not due to poor airmanship on his part. It is a dramatic photo and Alberto liked to share it, we were privileged to hear him recount this story and many others when he attended previous Open Hangar Parties at Massey Aerodrome where he was a member of the Massey Air Museum.
Alberto went on to have a distinguished career as a helicopter test pilot.  Among the achievements of Alberto H. Santa Maria:
Commander U. S. Navy Reserves (RET)
Naval Aviator (F6F "Hellcat", F4U-4 & 5 "Corsair" & helicopters)
Test Pilot (Navy Exper. & Devel. Sqn. VX-3, tailcode XC)
Senior Test Pilot (Boeing-Vertol) – CH-47 "Chinook"
Engineering Test Pilot (All American Engineering)
Engineering Test Pilot (Atlantic Aviation)
Bell HU-1 A / UH-1 Iroquois "Huey"
Member Society Experimental Test Pilots
Member Quiet Birdmen ("QB") (Wilmington Hanger)
First pilot to log 1000 experimental hours in the "Chinook"
 Performed the first water landing tests in a "Chinook".
Interest in aviation ran in the family as Mr. Santa Maria's father (also Alberto) joined the RCAF in 1917 and flew a Sopwith Camel in WWI  "over German trench lines."
Below are Al Santa Maria's own notes on back of photo of F4 Corsair on it's nose:
"A Landing Gone Awry" on Jeep carrier CVE-122 Palau shortly after WWII. The straight landing deck is only 400 feet long. The Landing Signal Officer (LSO) called for a throttle "cut" a little too early. The other photo shows the damage to the approach end of the deck. Photo taken January 12, 1949, by a Navy Photographer off the coast of Newfoundland. The ship was working with the Navy Experimental and Development Squadron VX-3 out of Atlantic City, NJ. (Squadron VX-3 had tailcode XC assigned to them)"
Al liked to say "Any landing you can walk away from is a good landing"  —  He was EXTREMELY fortunate, judging from the damage to the approach deck, a few inches lower would have totally destroyed the plane.
An early model Sikorsky R-5 (Navy HO3S-1) helicopter is visible behind the Corsair's tail.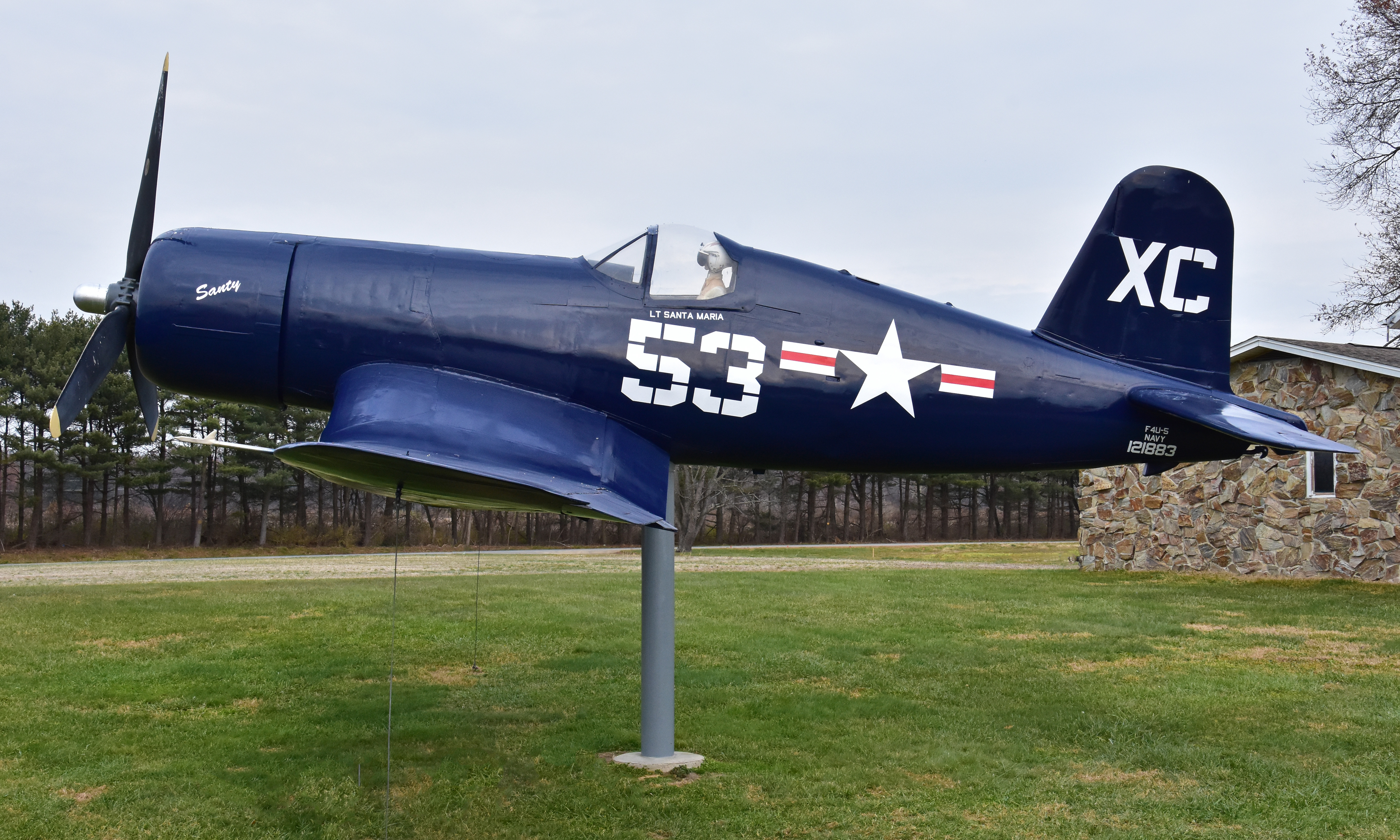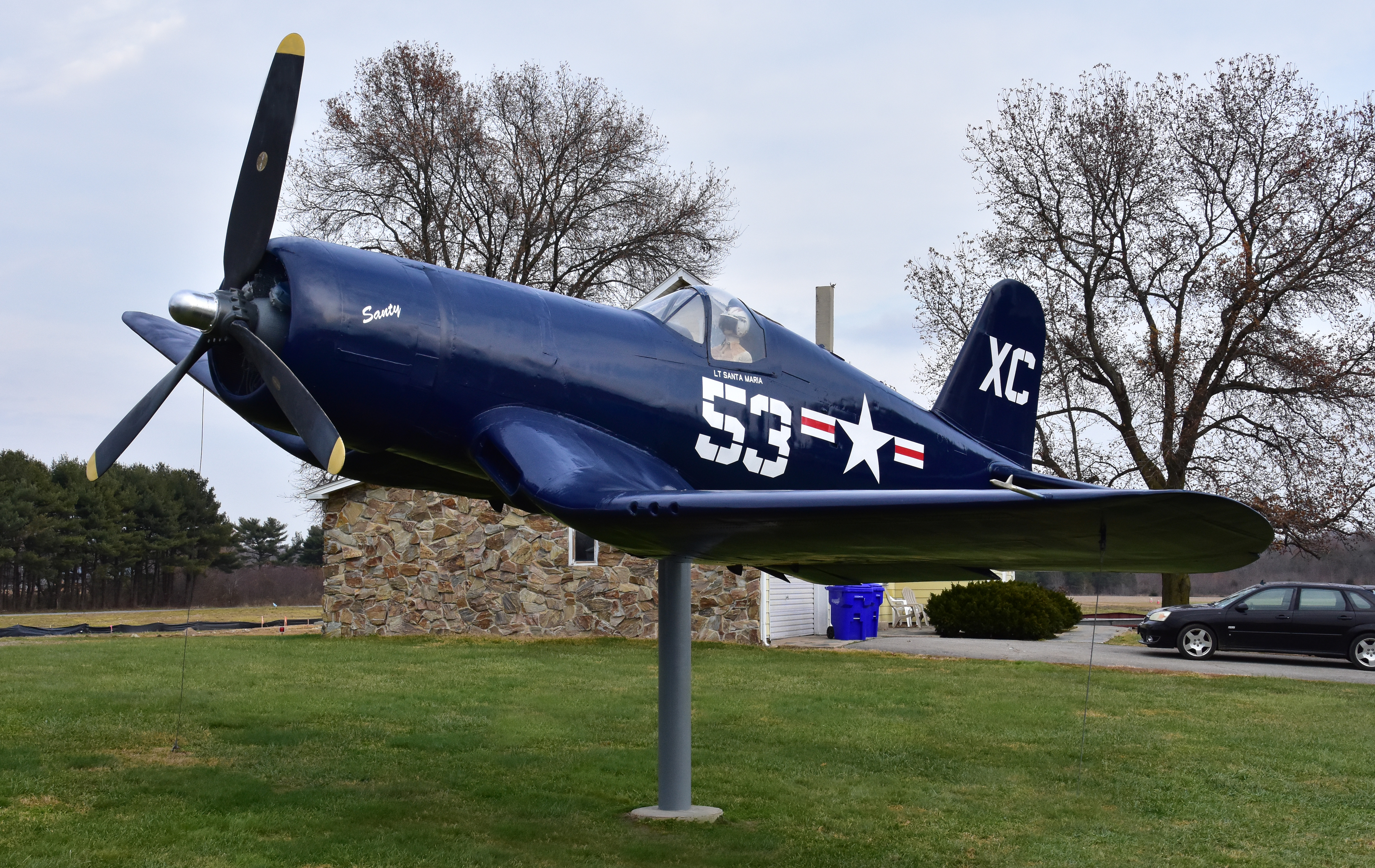 Our Corsair is a life-size fiberglass model of an actual F4U-1D Corsair (from which the mold was taken) which was owned by David Tallichet's Military Aircraft Restoration Company . The model was made by a company also owned by David Tallichet specifically for his Specialty Restaurants business to be displayed outside his World War II themed restaurants. They were able to capture all the surface detail when they made molds from the real airplane – you can count every rivet & dzus fastener. This model was displayed for many years outside the 94th Aero Squadron Restaurant in College Park, MD until obtained by Massey. We dismantled and moved it to the airport in December 2007 and installed it on a new pylon at the airport on June 27, 2009. The paint, having suffered from being exposed to the weather for ten years at Massey and an unknown period at the restaurant, we decided to take advantage of the need to repaint it to change the identity to that of a Corsair flown by a friend of Massey, Alberto Santa H. Maria.
[See also Massey Web Site > Airport News > Corsair Replica Erected: (Link) https://masseyaero.org/projects/corsair/ ]
The Massey Air Museum wishes to thank Chris & Dee Jennings and The Museums of Kent County (MD) for funding the painting and marking of our Corsair in honor of Alberto H. Santa Maria. Thanks also to Bill Lee of the Air Mobility Command Museum (Dover, DE) for repairs and bird-proofing, Nick Mirales for painting and decal application and Chris Jennings for painting preparation.
Two Portraits of Alberto H. Santa Maria, Jr. USNR  No. C-23305: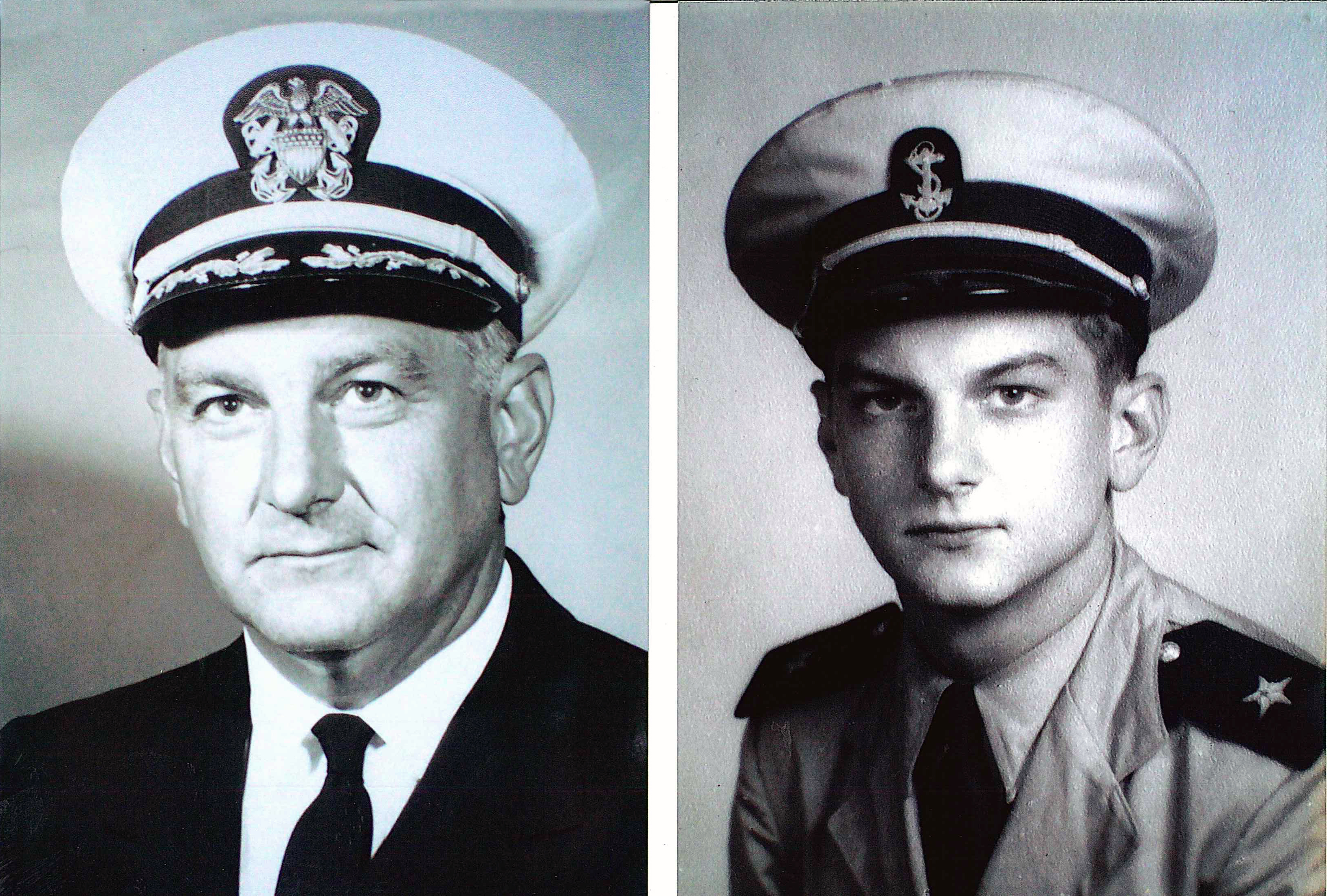 U.S. Navy Accident Report January 12, 1949: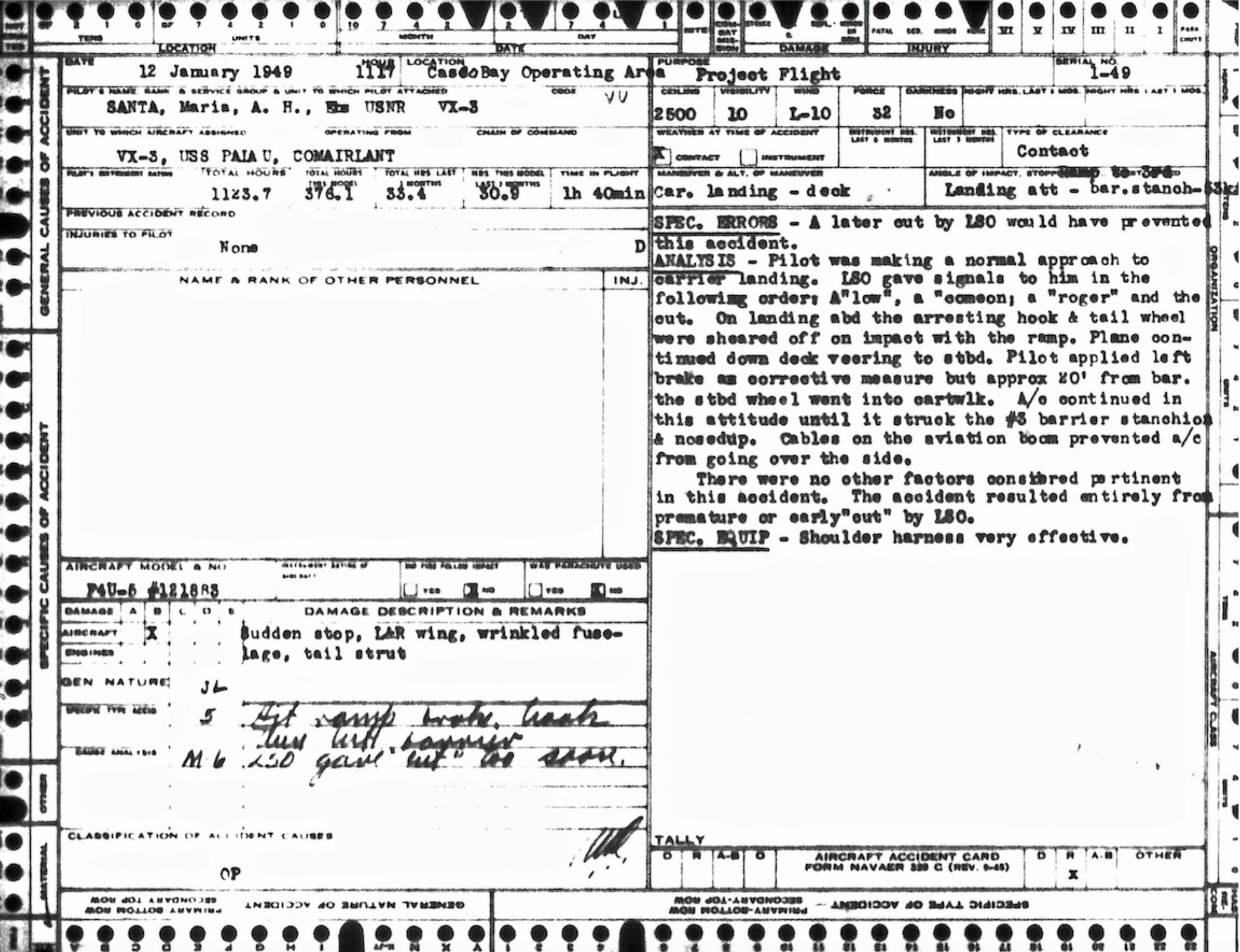 BELOW is enlargement of right half of report above: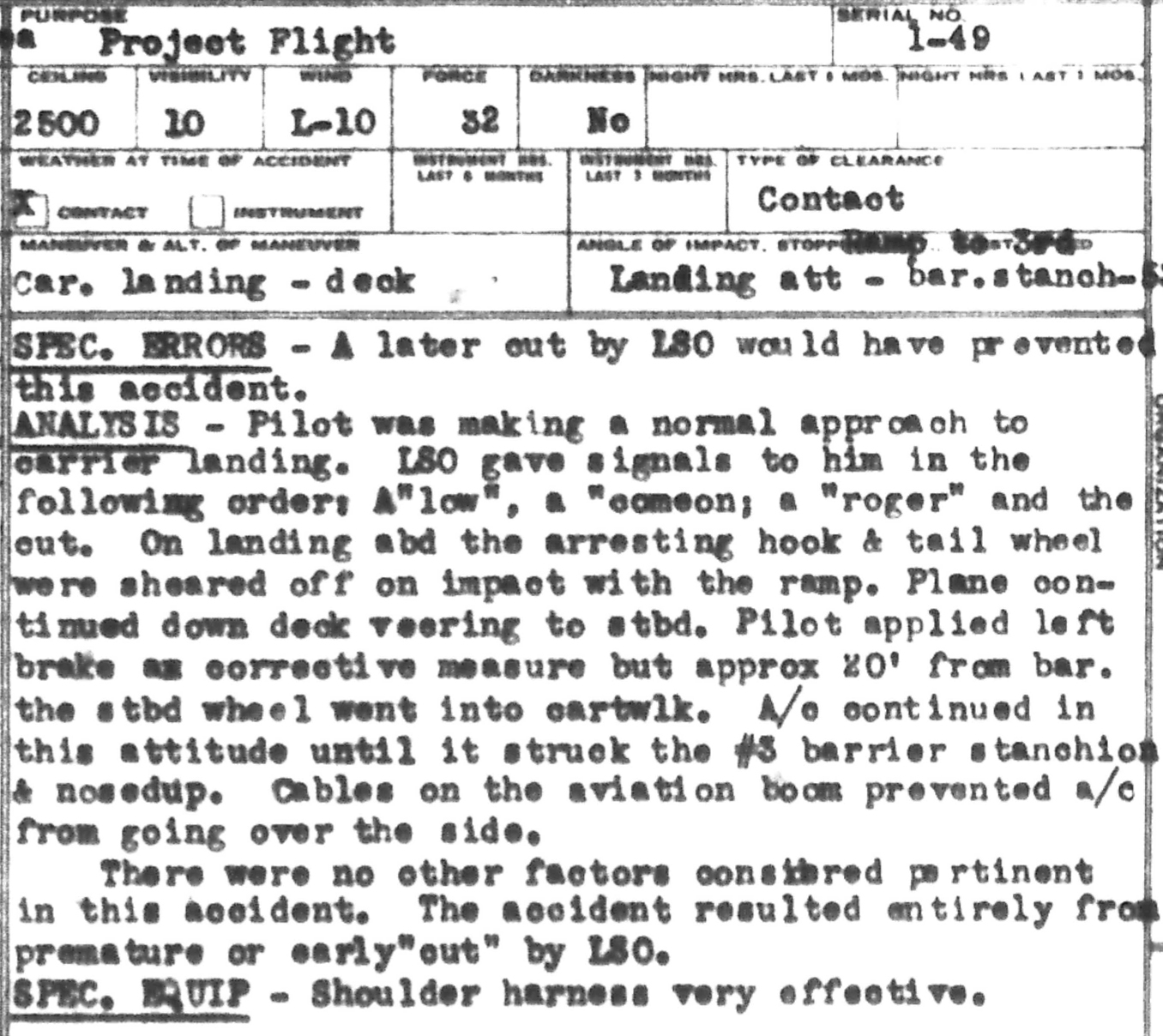 Stock photo of a different Corsair landing on a carrier, Landing Signal Officer (yellow shirt – left) giving "CUT" signal with the paddles. 
7 LSO Standard Signals (Note two signals are Mandatory):
Alberto H. Santa Maria in McDonnell F2H Banshee:
Transferred from VF-933 to HU-931 NAS Willow Grove, CDR. HS 931.  Alberto H. Santa Maria with NAS Willow Grove HS-932: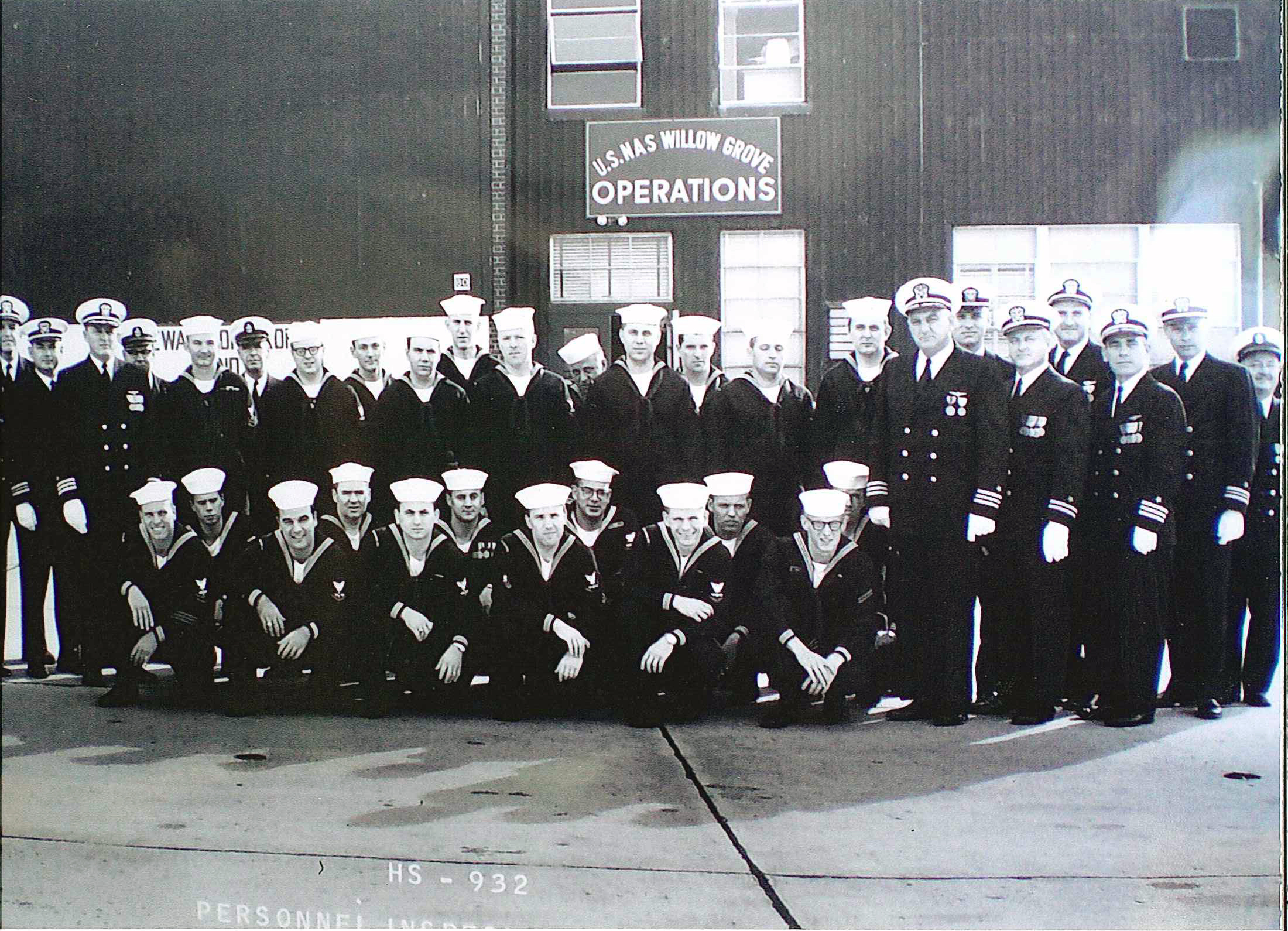 Escort Carrier USS Palau (CVE-122) underway: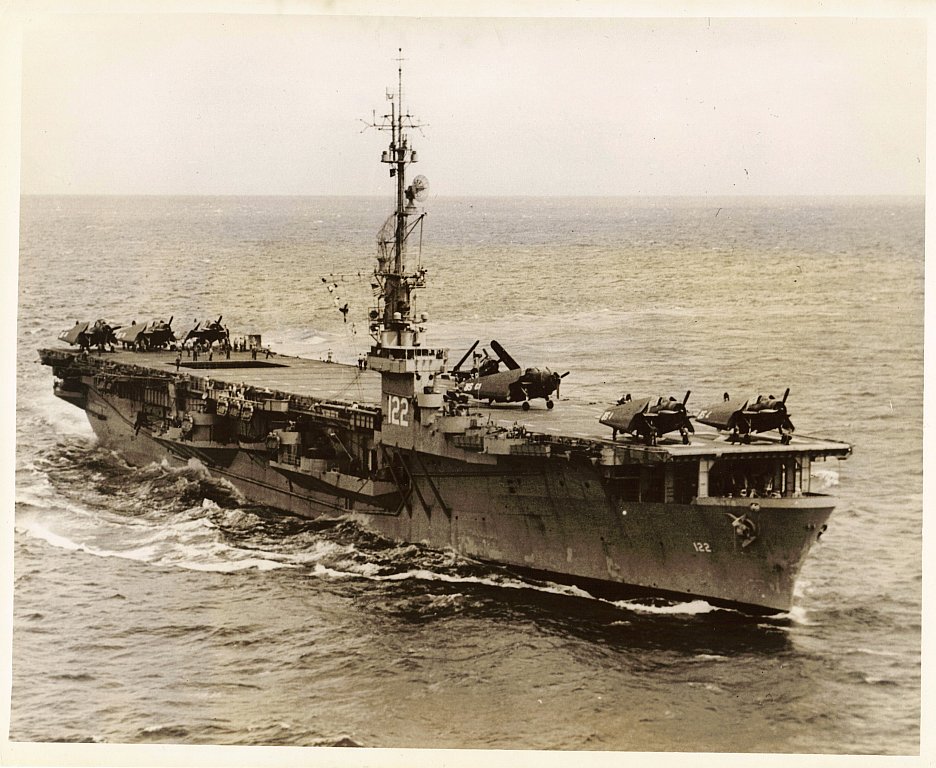 Marine Corps Piasecki HRP-1's (such as flown by Alberto Santa Maria) are shown aboard the USS Palau: