Blue Skies prevailed for another great December Fly-In!
After dawning rainy & foggy the weather cleared as predicted for the first plane to arrive at 10:20 AM. With the forecast for sunny & mild (mid 50's) we were thankfully ready for the expected onslaught that ultimately arrived only slightly delayed. As usual, the grass was firm & dry for the nearly 160 guest planes that arrived by 1 PM. Who knows how many pilots were discouraged by the early weather and chose not to come? There were well over 125 drive-ins and the local car club had a good showing despite the wet roads. December weather has proven surprisingly reliable for us.
We want to express our sincere thanks to the many volunteers that made this a success – both in the kitchen and on the field! And a big thank you to all our friends who brought food items to share.
Grassroots aviation means taildraggers with a special place in our hearts for radial engined planes. Four Stearman flew in plus our two in the hangar made 6 on-field. Radial engines included a 1943 Howard DGA-15P, a 1952 Cessna 195 and our favorite BIRD by which we mean Mike Pangia's "Lindbergh Bird" the 1930 Brunner Winkle Bird N727Y with Kinner power.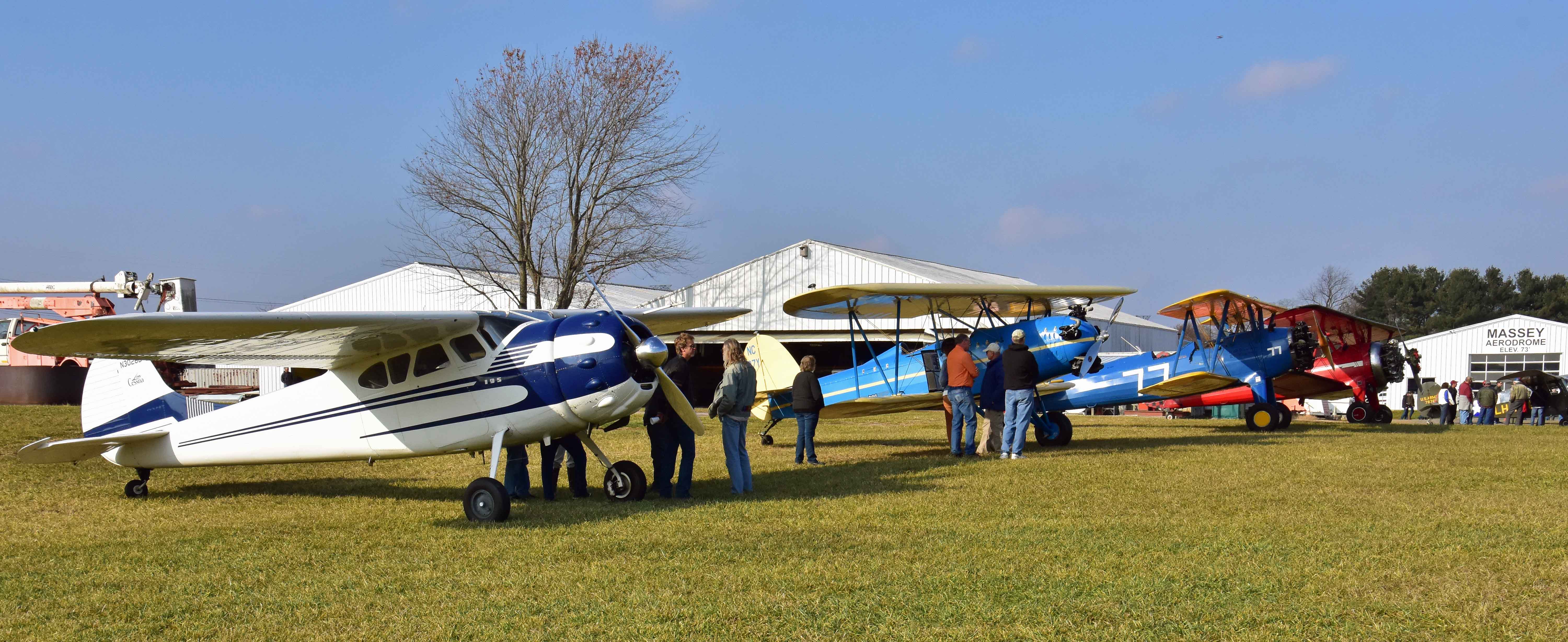 Liaison aircraft had a very good showing with six:
Dan O'Donnell's sparkling Aeronca 7AC  newly restored as an L-16 N878
Paul Smith's very authentic, award winning 1944 Piper L-4H N79731 (#82)
Richard Wallin's beautiful award winning Aeronca 7BCM L-16 N9325H
Austin Shartle's newly restored 1946 Piper L-4A "Grasshopper" N87910 (#39)  (Michigan?)
Larry Kelley's unmistakable camouflaged (Giraffe spots) 1958 Aeronca 7FC L-16 N7513E
Jon McLanahan's 1955 Fuji LM-1 N8020K (Lynchburg, VA). The Fuji is a Japanese license-built 4 place Beechcraft derived from the T-34.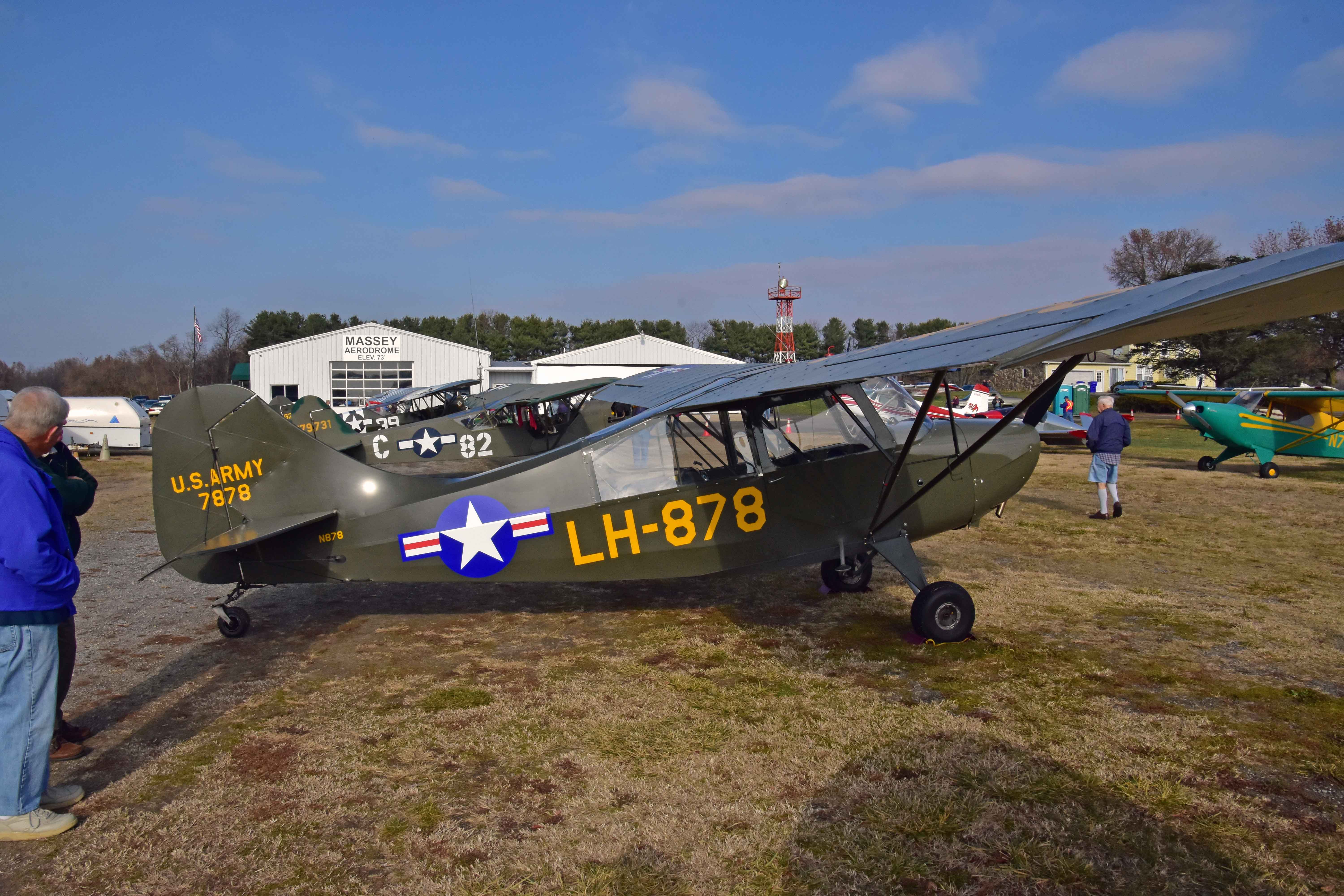 Our friend, John Chirtea showed off his pristine newly acquired 1965 Alon A2 (Ercoupe follow-on) to replace the one he very graciously donated to the Massey Air Museum.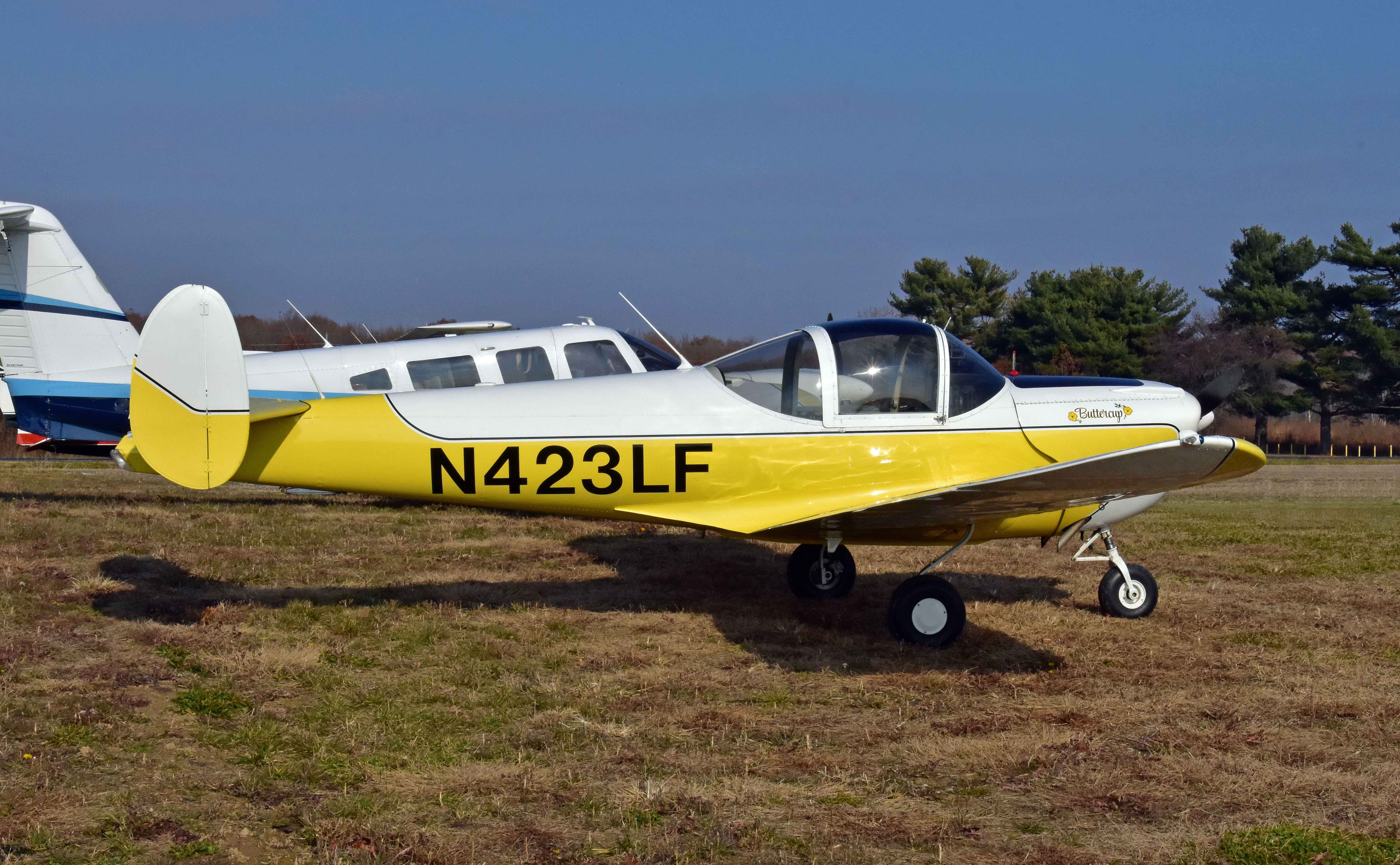 There were 3 gyro-copters (Autogyro GMBH) and one Robinson R44 helicopter, many Piper Cubs & RVs plus uncounted Cessnas and low-wing Pipers.
With one Cirrus and quite a few new design Light Sport planes there was something for everybody.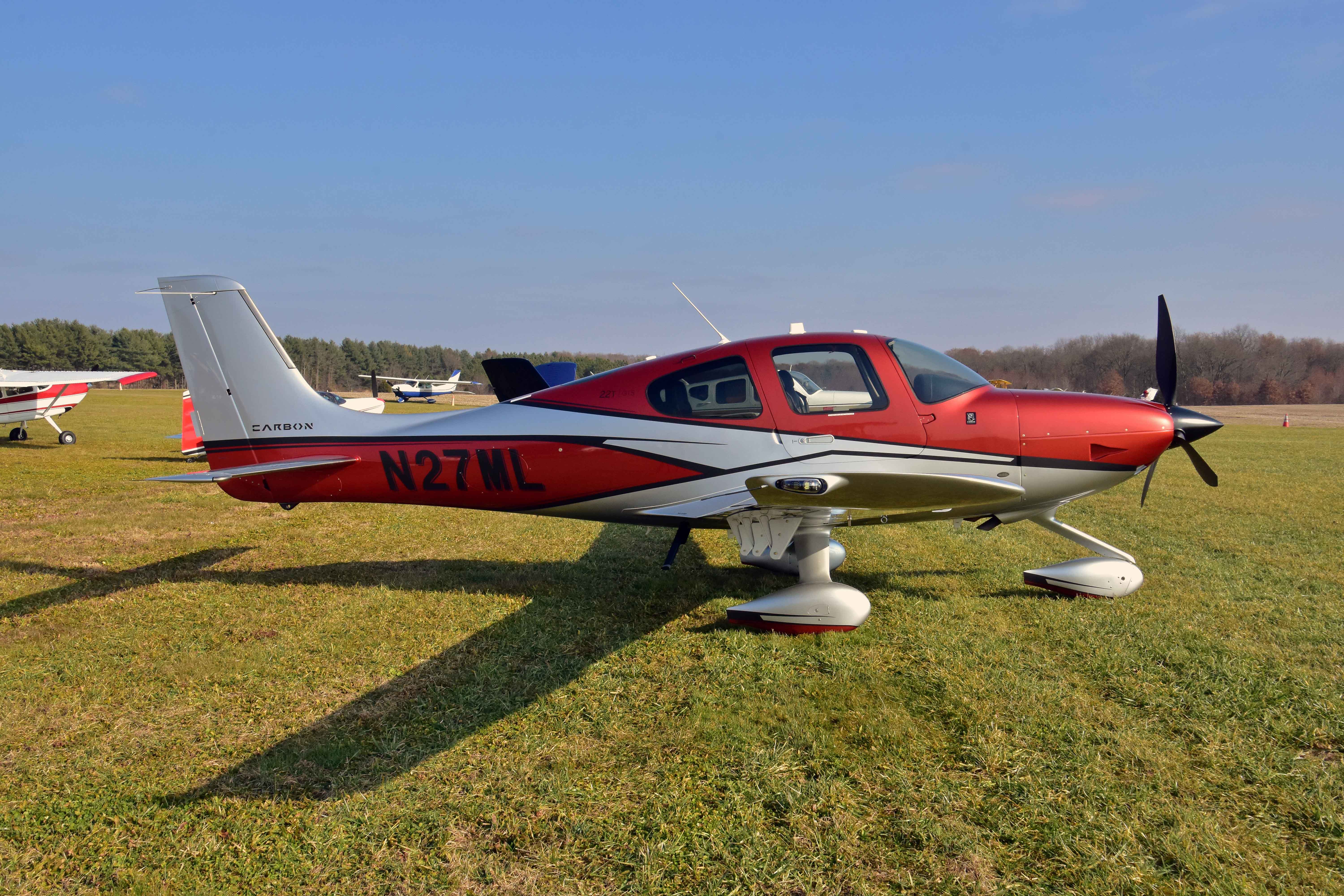 We repaired and painted our life-size "Corsair" model in tribute to a past friend of Massey, Navy Commander Alberto Santa Maria who flew Corsairs off the carrier USS Palau and became a senior Test Pilot for Boeing-Vertol on the CH-47 Chinook. See accompanying article in "Latest News" below.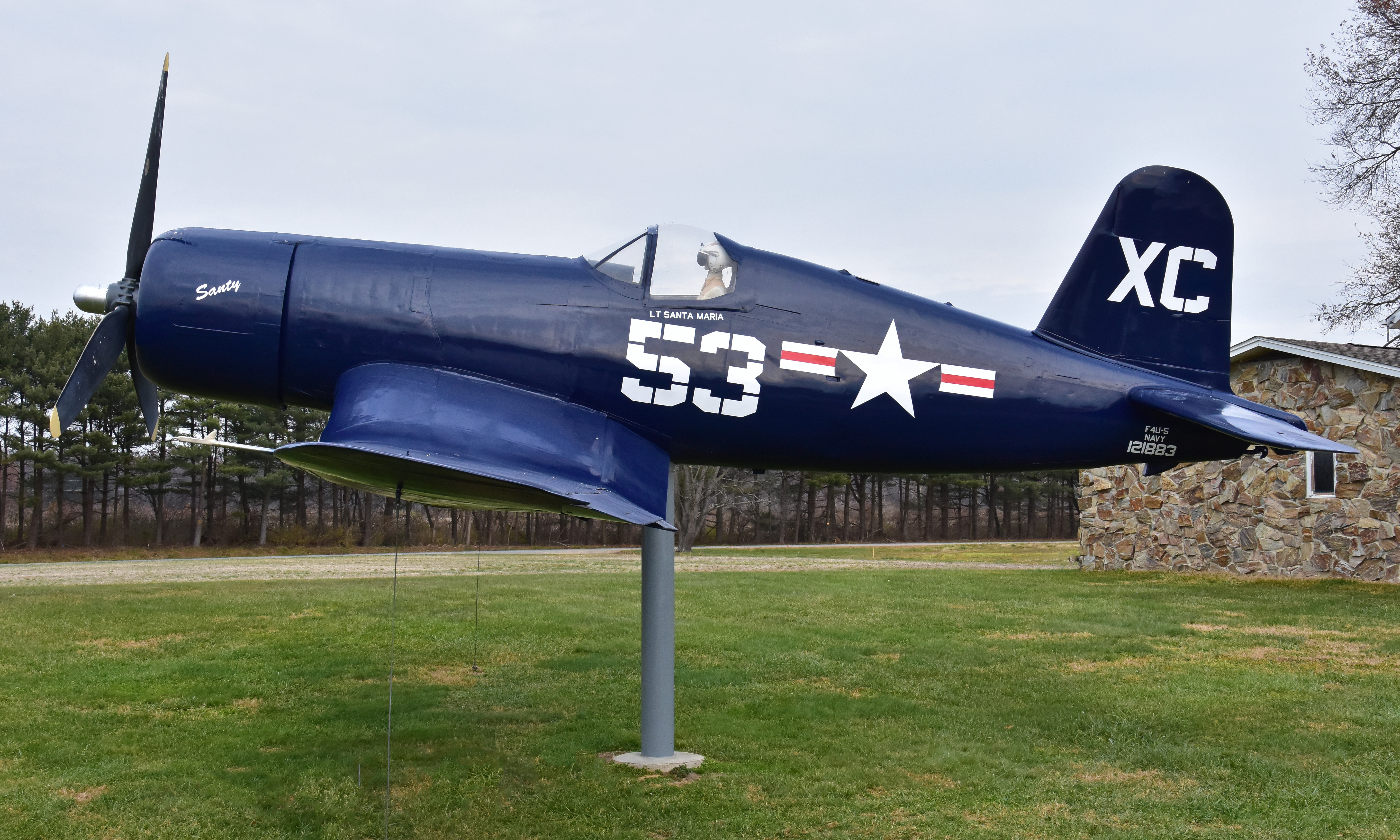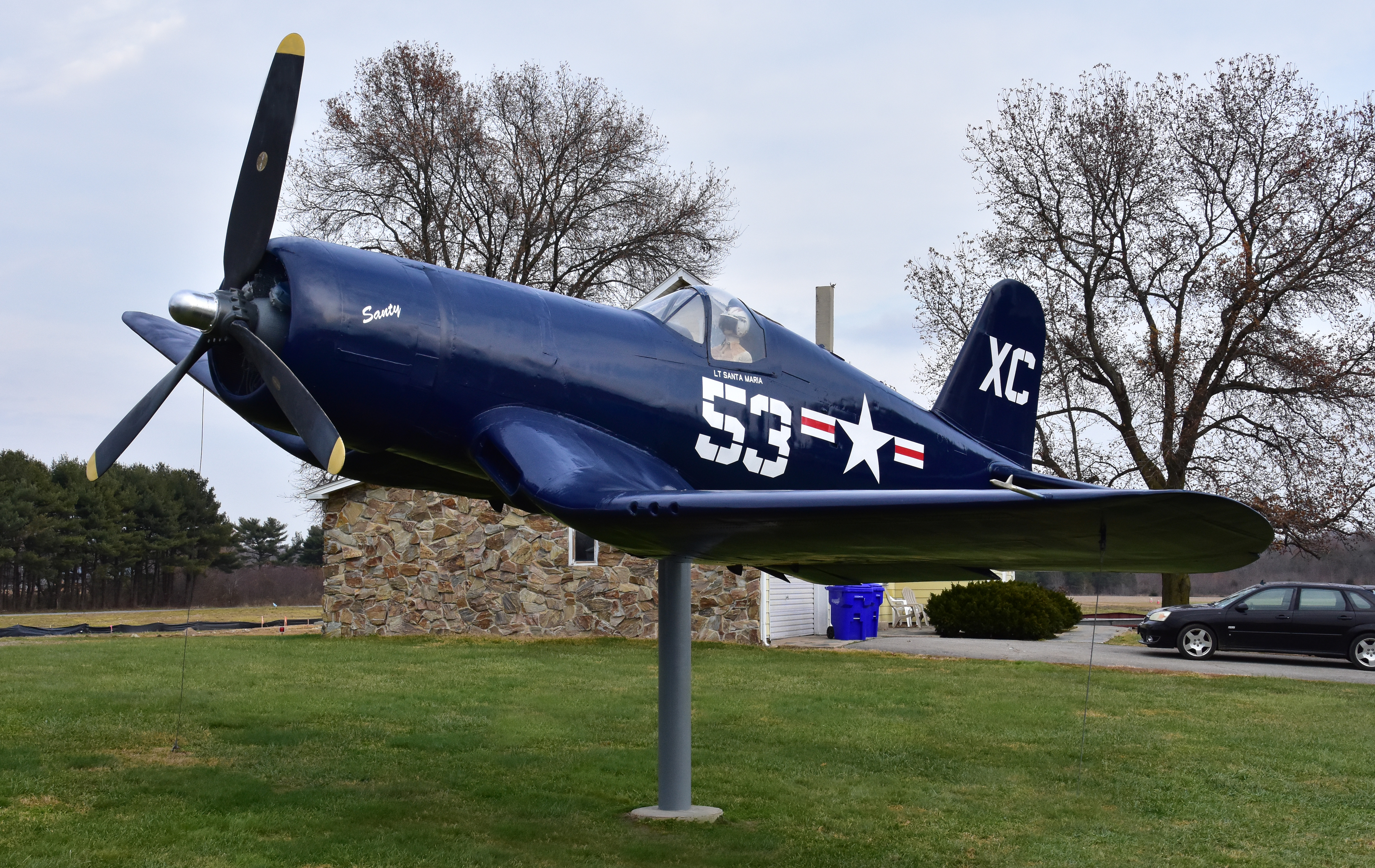 Finally, if you are a local resident, please support our sponsors: Atlantic Tractor, your one-stop shop for all John Deere equipment
         and Twinny's Place Restaurant in Galena.        

                       More Pictures: