F4U-1D / FG-1D Corsair Replica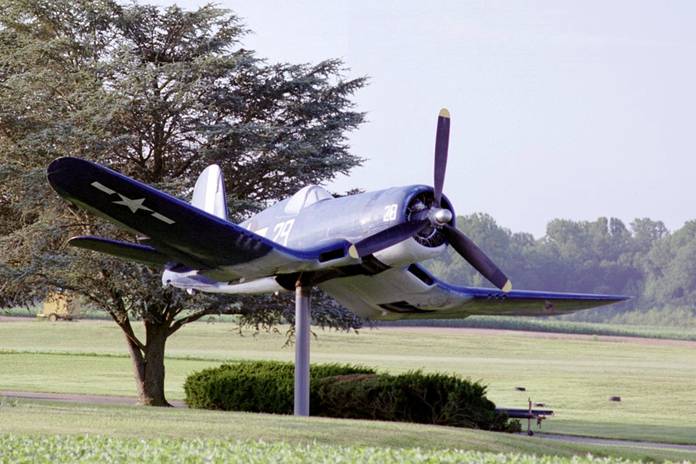 Bill Dougherty
July 15, 2009
Navy designation F4U-1D Manufactured by Chance Vought
Navy designation FG-1D Manufactured by Goodyear
Massey Aerodrome's Corsair is painted to represent a Navy Corsair of fighter squadron VF-10 "GRIM REAPERS" aboard† the Essex class carrier USS Intrepid (CV11) during the invasion of Okinawa, April 1945. But the #29 is most famous as the aircraft number of Top Navy Corsair Ace Ira Kepford (16 confirmed victories). Kepford was land based on Bougainville in Fighter Squadron VF-17 "JOLLY ROGERS."
(The white vertical tail stripe is the ID for Intrepid aircraft)
Our Corsair is a full, life-size fiberglass replica of an actual Corsair which was owned by David Tallichetís Military Aircraft Restoration Company. The replica was made by a company also owned by † David Tallichet especially for his Specialty Restaurants business to be displayed outside his World War II themed restaurants. They were able to capture all the surface detail when they made molds from the real airplane Ė you can count every rivet & dzus fastener. We were able to read a number embossed on the tail that confirmed the mold was taken from Goodyear-built Corsair BuNo 92132, N3466G, manufacturers construction number 3393. This model was displayed for many years outside a 94th Aero Squadron Restaurant until Massey obtained it. We dismantled and moved it to the airport in December 2007 and† installed it on a pylon at the airport on June 27, 2009. We are still in the process of repairing and "detailing it." †This now becomes a tale of two Corsairs.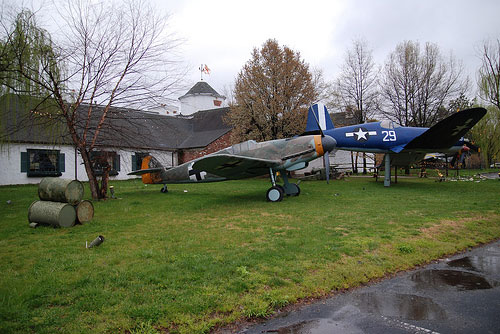 Our Corsair when it was on display at the 94th Aero Squadron Restaurant
The original BuNo 92132 was bought in 2003 by the Tri-State Warbird Museum in Batavia, Ohio. "This Corsair is an amazing time capsule," stated museum director Paul Redlick. "Even though it flew with a civilian registration, it was never fully civilianized and thus has a lot of its original equipment still installed. As we restore this aircraft, we will be conserving a lot of the interior to preserve its originality."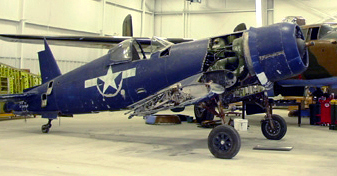 BuNo 92132, N3466G at The Tri-State Warbird Museum
This particular Corsair was obtained shortly after being surplused in 1958 by Ed Maloney for his fledgling "The Air Museum". The aircraft was put on display as US Navy "29" at Ed's first facility in Claremont, California. In 1973, the Corsair was obtained by David Tallichet and later used in the popular television series "Baa, Baa Blacksheep" from 1976 to 1978 along with another Tallichet Corsair BuNo 92106/N6897 (the TV show was called "Black Sheep Squadron", in syndication).
<![if !vml]>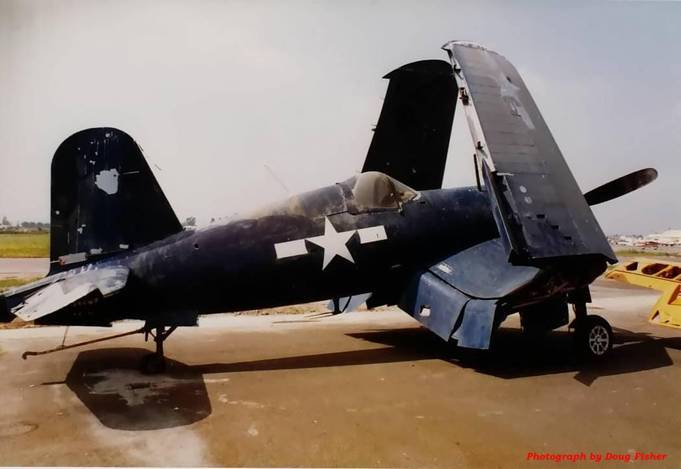 <![endif]>
The plane was slowly deteriorating until 1994 in outside storage at David Tallichet's Military Aircraft
Restoration Company, Chino, CA.†† http://www.f4ucorsair.com/legends/N3466G.jpg†† Doug Fisher photo
In 1994, the Corsair was sold to well-known collector Butch Schroeder who intended to restore the plane but this did not happen and it remained in storage until it was bought by the Tri-State Warbird Museum.
Recent films like "Pearl Harbor" and "Collateral Damage" used replicas, similar to ours, also made by Tallichetís company. During his heyday, Tallichet owned more than 100 aircraft, including the B-17 used in the movie "Memphis Belle".
<![if !supportLineBreakNewLine]>
<![endif]>
It seems every visiting Corsair aficionado has noted that the #29 on our plane belongs to Top Navy Corsair Ace Ira Kepford (16 confirmed victories), yet our plane was †painted to represent a later F4U-1D onboard the USS Intrepid during the invasion of Okinawa, April 1945. (The white vertical tail stripe being the identifier for the Intrepid).
<![if !vml]>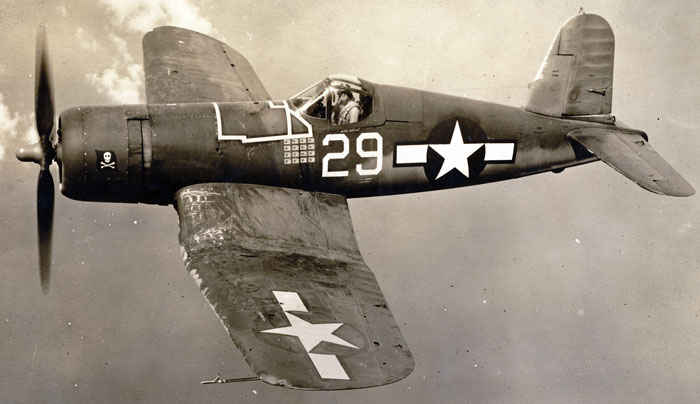 <![endif]>
Top Navy Corsair Ace Ira Kepford (16 confirmed victories) of Fighter Squadron VF-17 "Jolly Rogers"
<![if !vml]>

<![endif]>
Ira Kepford was land based on Bouganville in Fighter Squadron VF-17 "JOLLY ROGERS" and his plane was painted in the early three color camouflage (March 1943), never the dark blue later color.
<![if !vml]>

<![endif]>
This Corsair image exactly matches the paint scheme of our plane as it was displayed at one of David Tallichetís restaurants.
But, I have found a World War II photo that shows a Corsair painted exactly like ours (see below), itís entirely possible that the paint scheme on our plane was copied from this photo.
<![if !vml]>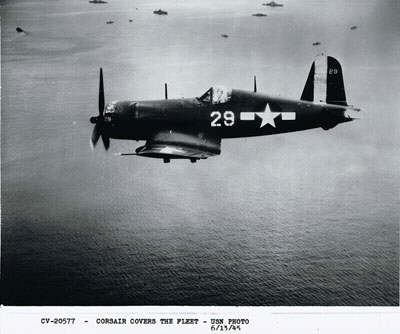 <![endif]>
This Corsair photo exactly matches the paint scheme of our plane as it was displayed at one of David Tallichetís restaurants. It may have been the inspiration for choosing #29 & the Intrepid vertical tail identifier stripe.
The Chance Vought F4U Corsair is widely considered the most capable of all carrier-based fighter aircraft of World War Two. It's distinctive "bent" wings were designed to keep the landing gear short and robust for carrier landings and give clearance for the enormous 13' 4" diameter propeller required to pull her to over 400 MPH - the first American fighter to do so. Itís performance was considered equal to many other fighters like the Mustang but its short range kept it either carrier-based or land-based in the South Pacific war close to the action. The Corsair continued to be operated by the USN and the Marines after the war and saw considerable action during the Korean War. http://www.vintagewings.ca/page?a=322&lang=en-CA
The Corsair was a very "slick" looking plane using flush riveting and a new technique developed jointly by Vought and the Naval Aircraft Factory called "spot-welding". In order to make the Corsair as aerodynamically clean as possible, there was nothing protruding into the air stream. The intake for the turbo-supercharger, intercooler and the oil cooler were located in slots in the inboard leading edges of the wings. Vought designed the fuselage with a circular cross-section which fit snugly over the Pratt-Whitney engine. The F4U was the first Navy craft to have landing gear which retracted flush into the bottom of the wing, though it took some effort. Other craft had retracting gear, but there was always some bulge or part of the wheel exposed. Vought engineers designed the Corsairs wheels to swivel 90ļ and retract straight back to fit flat inside the bottom of the wing. Two panels then closed over the gear making a perfectly smooth fairing. The idea was to mate the most powerful engine with the smallest, cleanest possible airframe. http://www.aviation-history.com/vought/f4u.html
The F-4U Corsair went into development in 1938 to meet the U.S. Navy's need for a new, carrier-based fighter. Built by the Chance-Vought company, it was designed around the powerful 2000 hp. Pratt & Whitney R-2800 Double Wasp engine, and was armed with six .50 caliber machine guns. Though early design flaws initially kept the F-4U off carrier decks, most land-based U.S. Marine air squadrons adopted the plane quickly.
By 1944, an improved model with an even more powerful engineĖthe R-2800-8WĖbegan operations from carriers. To U.S. Marine ground forces in the Pacific, the plane was affectionately called the "Sweetheart of Okinawa". But to the Japanese, it became ominously known as "Whistling Death," due to a pronounced whistling sound it sometimes made caused by the wing mounted air intakes. The F-4U Corsair would become the last prop-driven fighter built in the United StatesĖproduction ending in 1952Ėseeing action in the Korean war as late as 1952, and even later in a conflict between Honduras and El Salvador in Central America in 1969.
The Goodyear FG-1D was the equivalent of the Vought built F4U-1D. Goodyear built 4,014 of the total of 12.571 Corsairs.
The Corsair record from Guadalcanal to V-J Day showed: 2,140 enemy planes destroyed in air combat, with a loss of 189 corsairs in air combat - a victory ratio of 11.3 to 1. Total action sorties by Corsairs amounted to 64,051.
The Corsairís Pratt & Whitney R-2800 "Double Wasp" was probably the most important aircraft piston engine ever produced. It powered more different types of aircraft than any other (F6F, P-47 & F4U, B-26). By 1945, it had "grown" from 1850 hp to 2750 hp in the F4U-5. In addition to itís contribution to victory in WWII it also helped establish postwar commercial aviation in classic prop liners such as the Martin 404 and Douglas DC-6.
The Pratt-Whitney R-2800-8W engine in the F4U1-D produced 2,000 hp for take-off, with the water-methanol injection producing an extra 250 hp for short sprints. This was called "War Emergency" power and had a suffix "W" after the dash number of the engine.
Top U.S. Aces of the Pacific:
Maj. Gregory (Pappy) Boyington was the top Marine Ace (VMF-214), 28 kills in Corsairs.
#1 Navy Ace: David McCampbell, 34 kills in the Grumman F6F "Hellcat"
Major Richard I. Bong was the Top American Ace of World War Two, shooting down 40 Japanese planes in the Pacific from December 27, 1942 to December 16, 1944 (38 in P-38ís & 2 in P-39ís).
F4U-1D / FG-1D
Specifications
One Pilot

One Pratt & Whitney R-2800-8W Engine
Twin-row 18 cylinder Air-cooled Radial
2,000 hp @ 2,700 rpm

2,250 hp with water-methanol injection

Hamilton Standard 3-bladed Propeller
13' 2" Diameter

Six .50 caliber Machine Guns
Up to 2,000 lbs of Bombs

Max. Speed 417 mph @ 20,000 feet
Cruise Speed 182 mph
Landing Speed 87 mph

Initial Climb Rate 3,120 ft/min
Service Ceiling 37,800 ft

Length: 33' 4"
Height: 16' 1"
Wing Span: 41í

Max. T/O Weight: 14,670 lbs
(with 387 gal. fuel & 22 gal. oil)

Empty Weight: 9,014 lbs

Internal Fuel: 237 gallons
Max. Fuel: 537 gallons

Normal Range: 980 miles
Maximum Range: 1,500 miles

Combat Radius: 345 miles
<![if !vml]>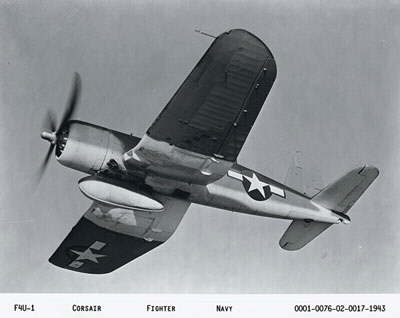 <![endif]>†<![if !vml]>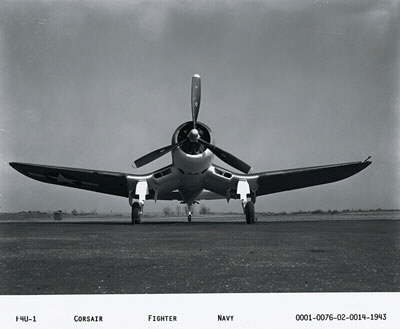 <![endif]>
Pratt & Whitney R-2800-8 "Double Wasp"
<![if !vml]>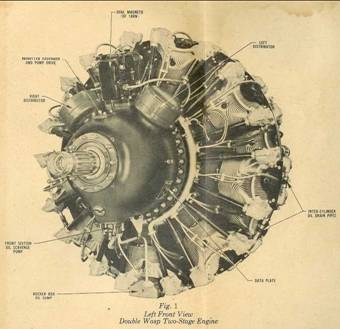 <![endif]>†<![if !vml]>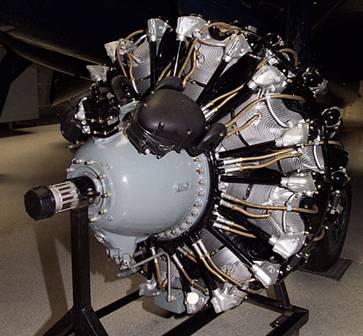 <![endif]>
†††††† Engine diagram in Corsair Pilotís Manual††††††††††††† R-2800 engine with dual General Electric Distributors
<![if !vml]>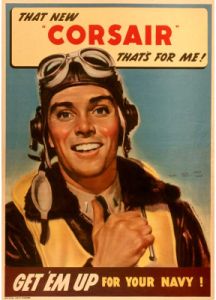 <![endif]>††††††††††††††††††††† <![if !vml]>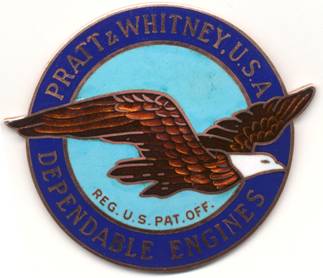 <![endif]>
††††††††††††††††††††††††† WWII Motivational Poster†††††††† ††††††††††††††††††††Pratt & Whitney engine medallion
---
Our Corsair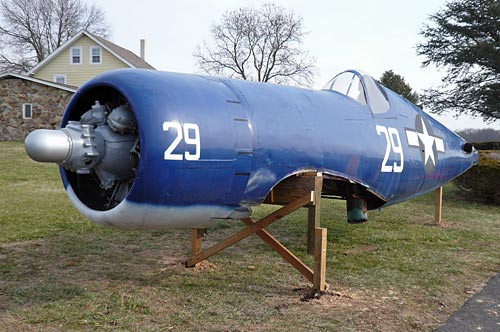 Fueselage before reattaching wings.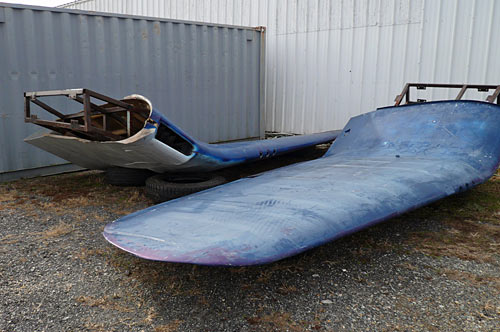 Wings, before repairs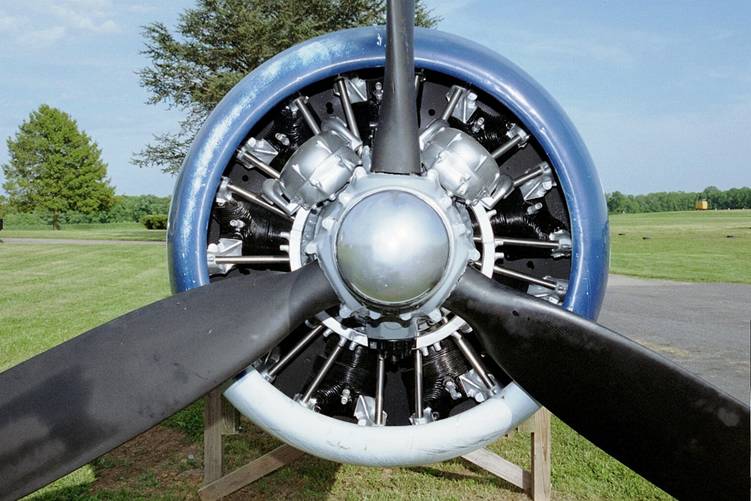 Tony repaired & detailed the Corsair engine in preparation for mounting on the pylon, April, 2009. (spark plug wires were installed after this photo).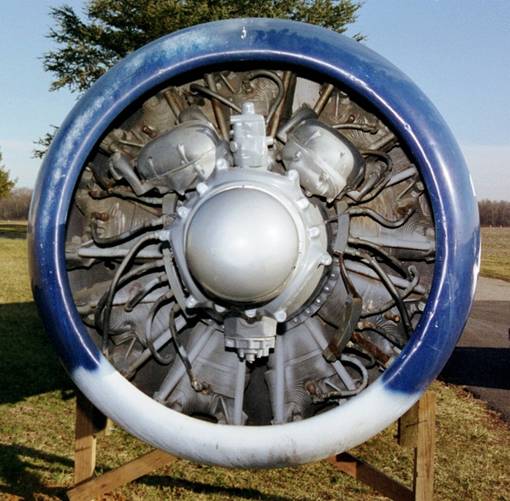 Corsair engine as it appeared when we got it.