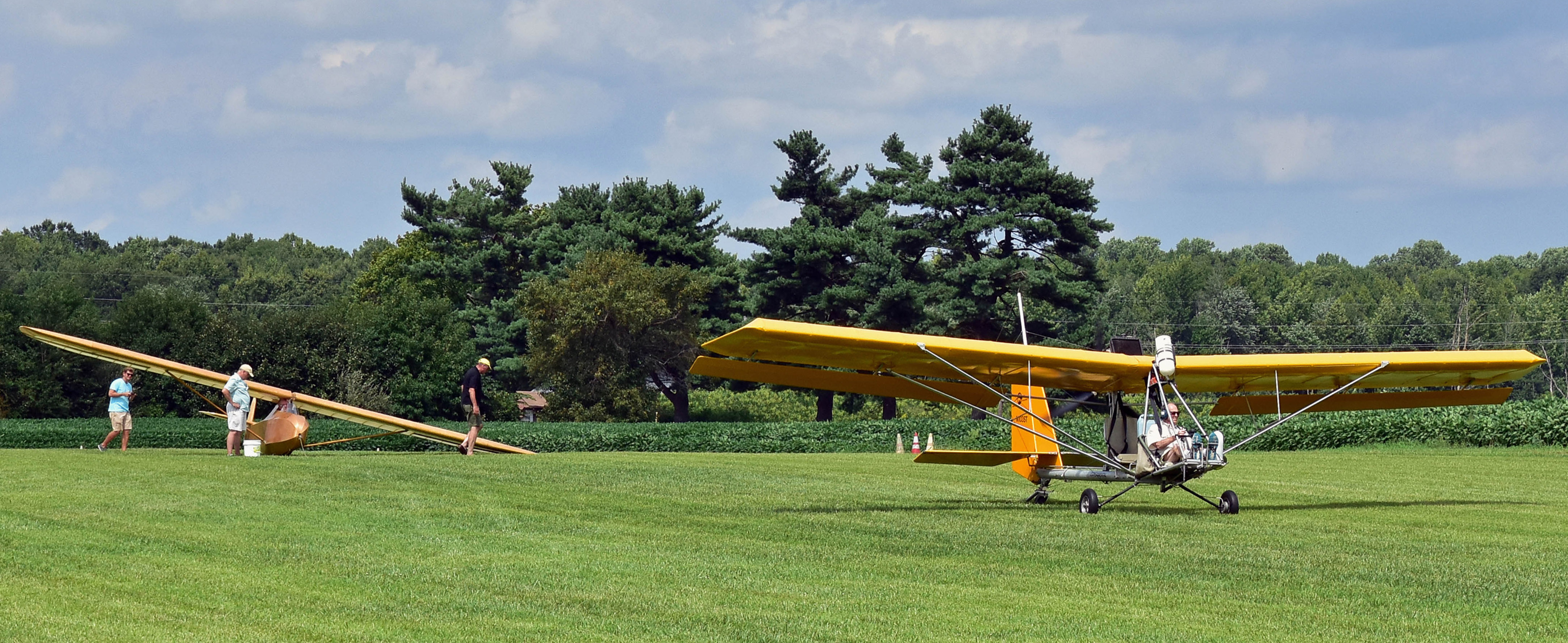 The Vintage Sailplane Rally enjoyed good weather for 2 of the 3 scheduled days (Aug. 17-19, 2018). We could have asked for more lift but considering the thunderstorms forecast (and around us) we were extremely fortunate to have sunshine on Friday & Saturday. Bob Dierker gave glider experience rides in his 2-33 to about a half dozen individuals, one of whom was a 91 year old veteran. Gerry Wild brought his unique Hütter 17 and Hans Hochradel flew is newly acquired Aviastroitel AC-5M Motor-Glider.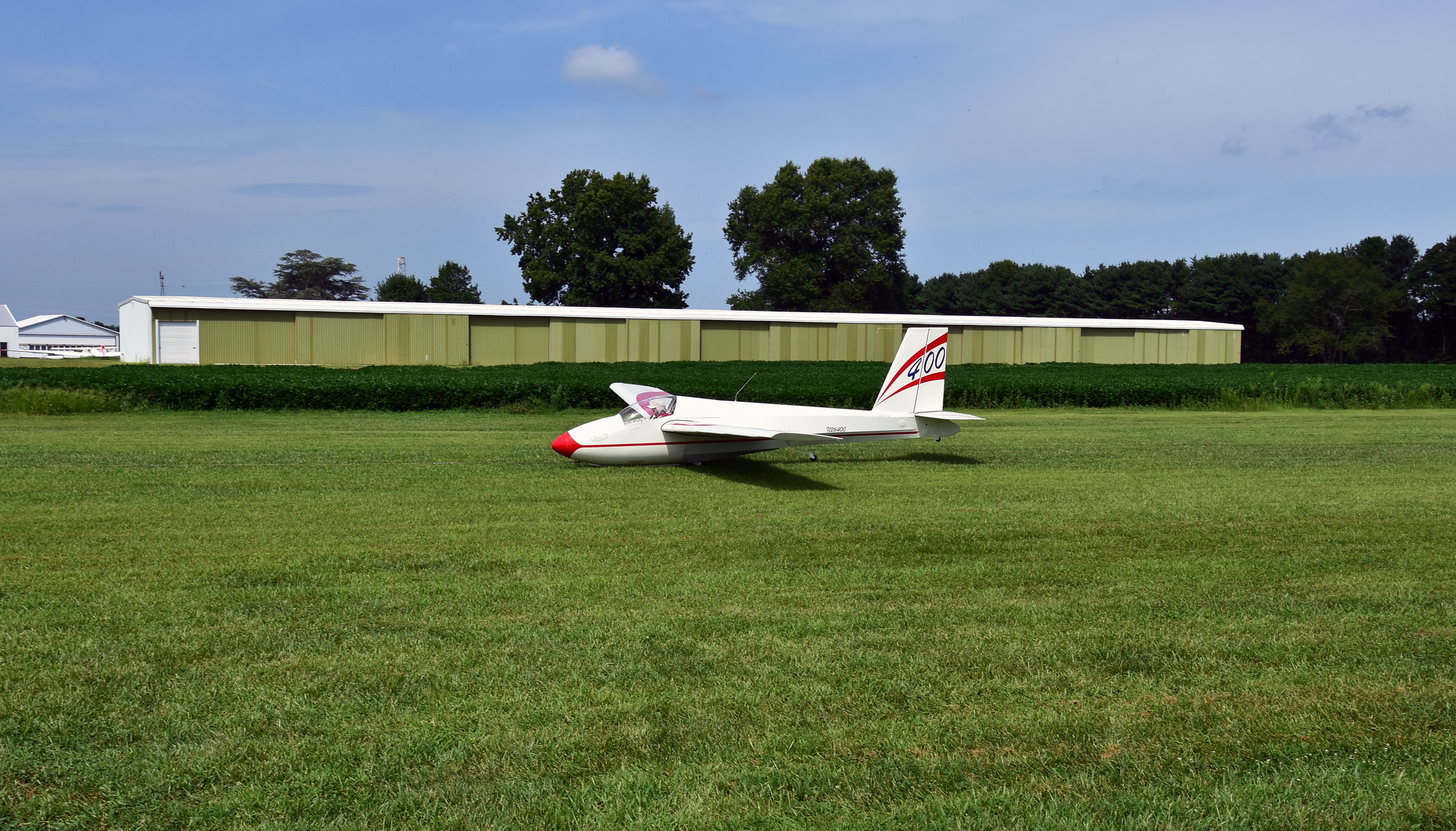 VSA regular, Kristin Farry brought her very beautiful, just restored 1968 SGS 1-26D Glider (the original #1 – D Prototype, s/n 400), now registered N26400. Restored in 2018 by K & L Soaring, Les & Kyle Schweizer of Cayuta, NY.
It's not often one gets to see a "brand new" Schweizer and it's an eye-catcher! Kristin had it mildly customized with hydraulic brakes and ??? to make it comfortable. Thanks Kristin – for restoring this historic aircraft and allowing everyone at Massey to see it fly.
Hans Hochradel, Annapolis, MD, got a tow from Rusty with the Massey C-182 but did not deploy the motor, grass is probably not conducive to self launching but should be useful for sustainment. The Aviastroitel is a Russian mid-wing, single seat, T-tailed motor glider (and unmanned aerial vehicle) that was produced by Aviastroitel, now Glider Air Craft.  Engine is a 25 hp Zanzottera MZ-35R  with 2-bladed retractable propellers. Wingspan: 41' – 4", Length: 17' – 5", Gross weight: 661 lb., Glide ratio: 35:1.
Tom Mellies flew the Massey Air Museum's 1968 Schweizer SGS 1-26B, N5777S, s/n #393 that he helped to restore. It's satisfying when all your work pays off with a good flying machine. We have a 1-26 open  "sport canopy" that Tom is anxious to try out on it.
We tow Gerry Wild's 1990 Hütter 17 (N17HU) with John Williamson's Moyes Dragonfly (hang glider tug) because the 182 is really too fast. We've learned that a little soapy water on the grass helps to release the skid (no wheel), then the Dragonfly is the perfect tow plane. The Hütter is a 1934 Austrian design. Specifications: 143 lb. Empty wt., 348 lb. Gross Wt., 31.8' Wing Span.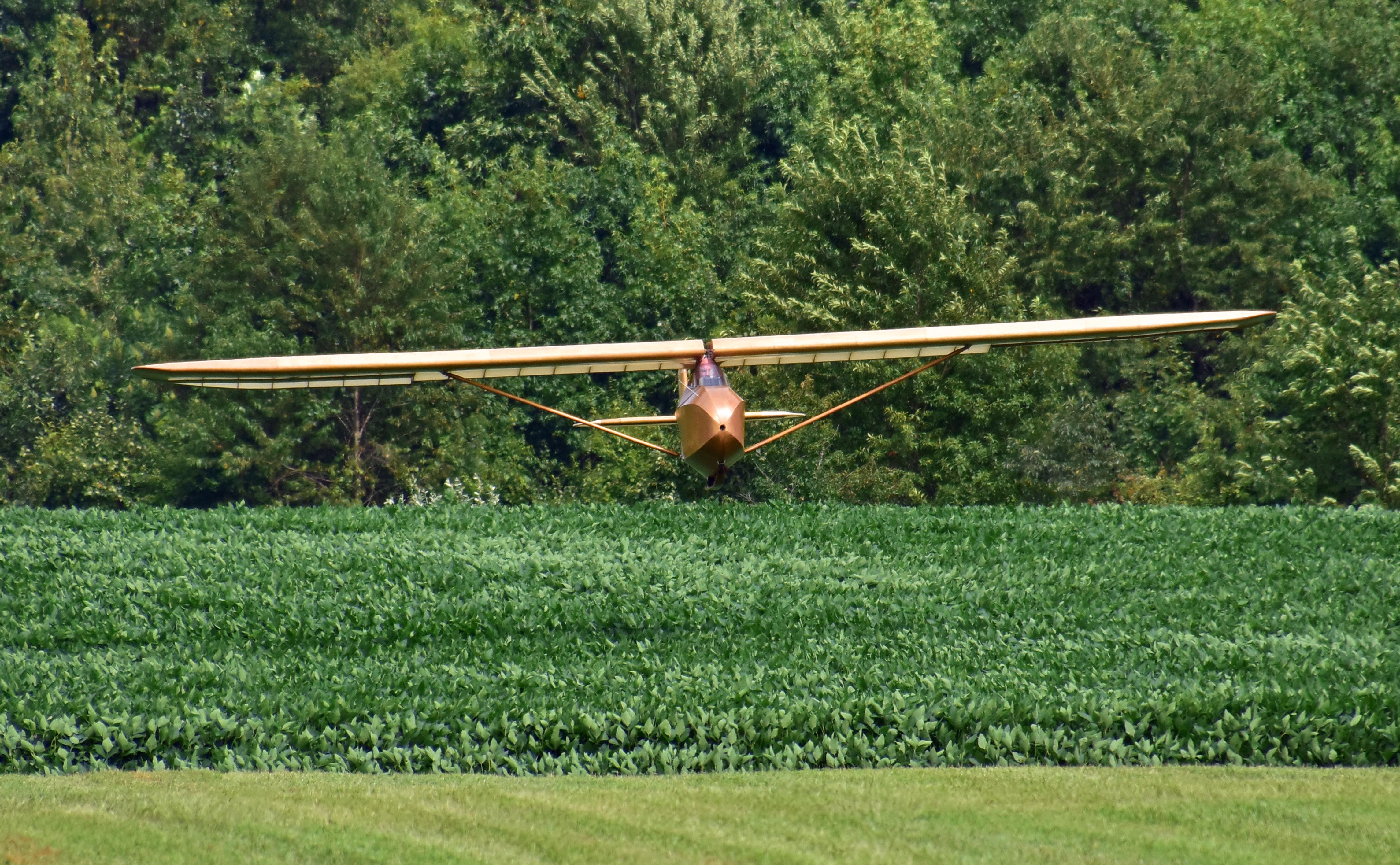 Gp. Capt. "Willy" Hackett, RAF, had been living in Arlington, VA, while posted to the UK's  F-35 Joint Program Office at PAX River when he discovered Massey's Glider Rally three years ago and hasn't missed it since. This year he brought his daughter, nine year old Olivia, who really enjoyed the day at the airport – and we enjoyed her company.
While nominally a Vintage Sailplane event, in actuality gliders of any age are invited, this is a relaxed opportunity to fly your glider and spend time with like-minded persons. Massey is open to all!