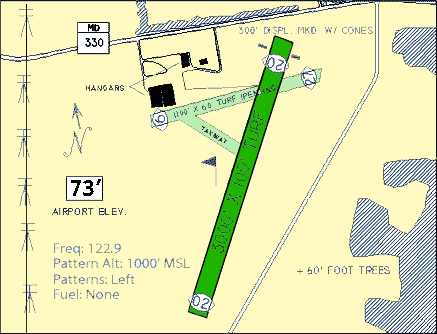 Chart from the Maryland Department of Aviation
AirNav (MD1) |
Sectional | 39-17.9N. 075-47.9W
Phone: 410-928-5270
ATTENTION PILOTS: Position reporting on 122.9 is recommended. Numerous NORDOs, see & avoid is the rule!
Resources & Recommended Reading Links: FAA Advisory Circular (AC) No. 90-66A. "Recommended Standard Traffic Patterns and Practices for Aeronautical Operations at Airport Without Operating Control Towers" (PDF)
Sport Aviation article Jan. 2018 Traffic Patterns and Near Misses Page 24. Click arrow at top of page "Flip to the next page"
Clean Rest Rooms when open (usually Tuesday-Sunday, 11 AM-5 PM. Call to confirm at 410-928-5270.)
Fuel Sales: Restricted to emergencies and for Museum Members (Memberships available for $25.00 at time of purchase). No Public fuel sales.
Food: No food available on-site (soda machine only). Nearest restaurant is 7 miles in Galena.
Transportation: There is no Airport Car but we'll try to assist you by special arrangement.
RENTAL CAR available in Middletown (25 minutes north).
Enterprise Rent-A-Car (302) 376-5606
753 N Broad St., Middletown, DE 19709
M-F 7:30am-6PM, Sat. 8AM-12-PM, Closed Sunday.