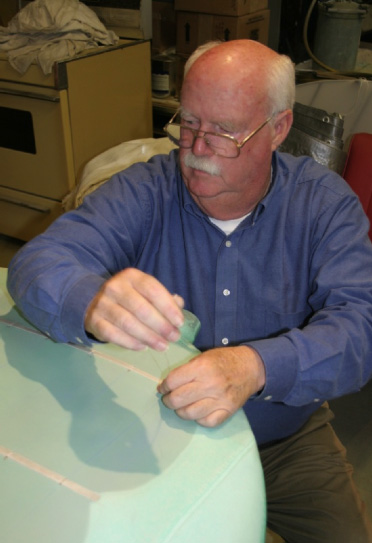 President and founding member of the Massey Aerodrome and Massey Air Museum, Jim Douglass wore a lot of hats around our strip - banker, member coordinator, purchasing agent, docent, director, manager - Jim's hands were in everything. A board member of The AMC museum Foundation and a previous board member of the EAA, he was also a long time member of AOPA, the Maryland Airport Managers Association, and a former Commodore of the Columbia Sailing Association and a Quiet Birdman.
After family and flying, Jim's love was dope and fabric! There was no aircraft at Massey that Jim hasn't touched. His methodical and meticulous habits led to truly creative and outstanding work. We miss him. As you look West, take a moment to smile - because you knew Jim Douglass!

Jim Douglass Photo Album
---
Jim Douglass, 72 of Kennedyville, MD, formerly of Radnor, PA, died on February 10, 2013 in University of Pennsylvania Hospital.

Jim was born on February 22, 1940 in Philadelphia, son of the late James F. Douglass, Jr. and Helen Turnbull Douglass. He spent most his career at Moore Products Company beginning in 1964 in Human Resources, retiring as Personnel Director in 1987. He also was part-owner of Massey Airport and Museum in Massey, MD. He attended St. Dennis Catholic Church, and was a member of Quiet Birdmen, Aircraft Owners and Pilots Assoc., Maryland Airport Managers Assoc., Air Mobility Command Museum Foundation Board, served on the Board of Directors for Experimental Aircraft Assoc., and was a former Commodore of the Columbia Sailing Assoc. He loved flying, sailing, playing poker and restoring vehicles.

Along with his parents he was preceded in death by a granddaughter, Melissa Ann Heller.

Jim is survived by his wife of 54 years, Ann Roberts Douglass; 2 daughters, Julia Douglass Heller (David) Limerick, PA. and Leslie Douglass Geiger (Wayne) of Townsend, DE; a son James F. Douglass, IV (Beth) of West Chester, PA; a sister Louise 'Nan' Kennedy of CT; a brother Robert T. Douglass of Philadelphia; 6 grandchildren and 5 grand dogs.

Mass of Christian Burial was held on Friday, February 15 at St. Dennis Catholic Church, Galena, MD.
---
Funeral Home Page - Guestbook