Fly Fishing at Rosehill Farm

Eastern Shore Land Conservancy https://www.eslc.org/events/
DATE AND TIME: Fri, April 20, 2018, 3:00 PM – 6:00 PM EDT.
LOCATION: Rosehill Farm, 13842 Gregg Neck Road, Galena, MD 21635 (turn left off Rt. 290 East onto Gregg Neck Rd., turn left Swantown Rd.)
Cost: $75.00
Unlike other casting methods, fly fishing can be thought of as a method of casting line rather than lure. Join Chuck Jolly at his preserved farm "Rosehill" on Mill Creek in Kent County to learn techniques of fly fishing on Chuck's pond. All equipment will be supplied, so no major investment in gear is necessary! Whether a novice or a master, Chuck can provide hands-on guidance for all levels of anglers. You can create your own tale of the one that got away…or didn't!
SHORE TALKS: Shore-centric learning experiences that not only invite you into a world of local experts doing great things on the Eastern Shore, but raise necessary revenue for ESLC's programs & projects.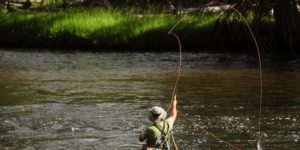 Massey Aerodrome is not associated with the Eastern Shore Land Conservancy, we are providing this information as a public Service.
Eastern Shore Land Conservancy, 114 S. Washington Street, Suite 101, Easton, MD 21601, phone at 410-690-4603.