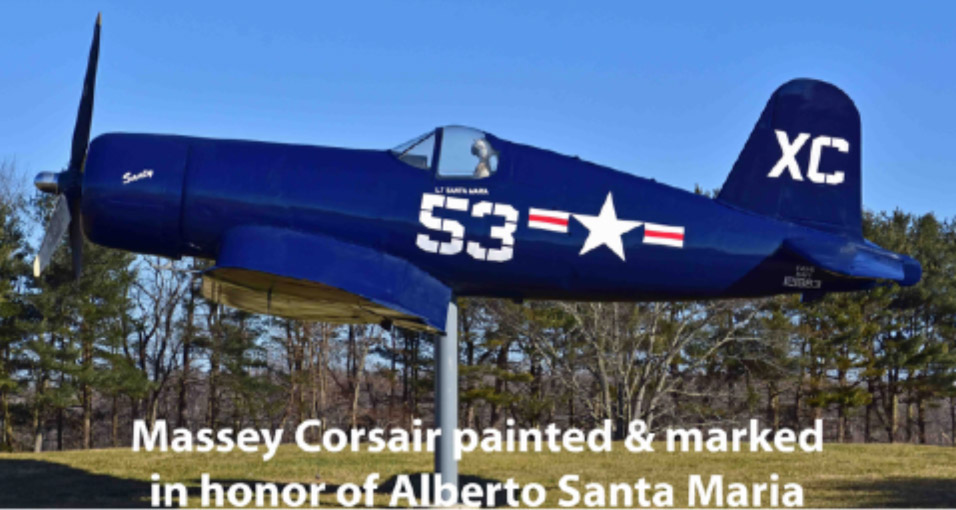 dramatic photograph showing the aftermath of a deck strike. See the story and photo in "Latest News" on our website.            
     Our community outreach continues to host Galena Elementary School science teacher, Tracy Hodges's 3rd grade Science Class field trips and also field trips from the Echo Hill Outdoor School.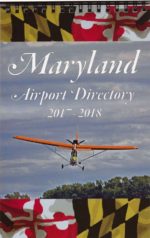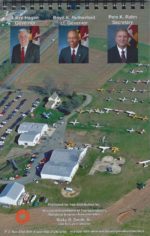 Massey Aerodrome is featured on the new Maryland Airport Directory (2 yrs. 2017 & 2018). The Maryland Aviation Admin. chose Massey for both the front and back covers "in recognition of the good work we are doing here." The front cover is a head-on photo of John Williamson landing in the Dragonfly and the back cover is an aerial view of the aircraft parking & building area at the 2015 Open Hanger Party & Fly-In. 
       Don Hooker has applied for a grant from the Museums of Kent County to conduct a Summer Aviation Engineering Course at Massey for six highly motivated high school students.  
     Massey is also preparing to host Boy Scout troops wishing to earn the BSA Aviation Merit Badge. We also want to host Girl Scouts for a similar program                      (GSA does not have an Aviation Merit Badge). 
Massey in the News:
     AOPA held a "Hidden Gem Airport" beauty contest in May to publicize Aviat Husky aircraft. By enlisting our members to vote, we beat the competition handily. Jeff Auen (AirCam) won the prize of a long weekend of Idaho Mountain Flying in a Husky for having nominated Massey.
      Last December a remote location crew from the Travel Channel's Mysteries at the Museum came to Massey to shoot background footage for an episode to air approx. 6 months later. The episode finally aired on July 6th, 2017. The episode is: Season 15, Episode 10 entitled "Terrible Tommy, Airplane Abduction and the Great Blondin"
We are featured in the second 8-minute segment of the episode – "Cessna 182 that disappeared over Australia after encountering a UFO" and have a little more than a minute of total air time – but something is better than nothing. The premise of the segment is (very) hokey, but what do you want – it's basic cable, we appreciated getting the free advertising!
     In Feb. we received a very complimentary letter from Bob Trumpolt of Canton, Michigan. Bob had visited Massey in his BC-12D Taylorcraft in 2009 and after receiving last year's newsletter, he was motivated to write us about how much he had enjoyed his brief visit 8 years ago. He also enclosed copies of a hand-written 16 page manuscript of his recollections as one of the last TWA Flight Engineers on the Lockheed Constellation in the 1960's. His story was so entertaining that we wanted to share it and so we sent it to aviation writer, Ralph Pettersen, who agreed and arranged for it to be printed in "Air Classics" magazine Feb. 2018 issue. You can enjoy reading it on our website posted under "Latest News" or Google Pettersen's "Connie Survivors" and scroll down to Articles.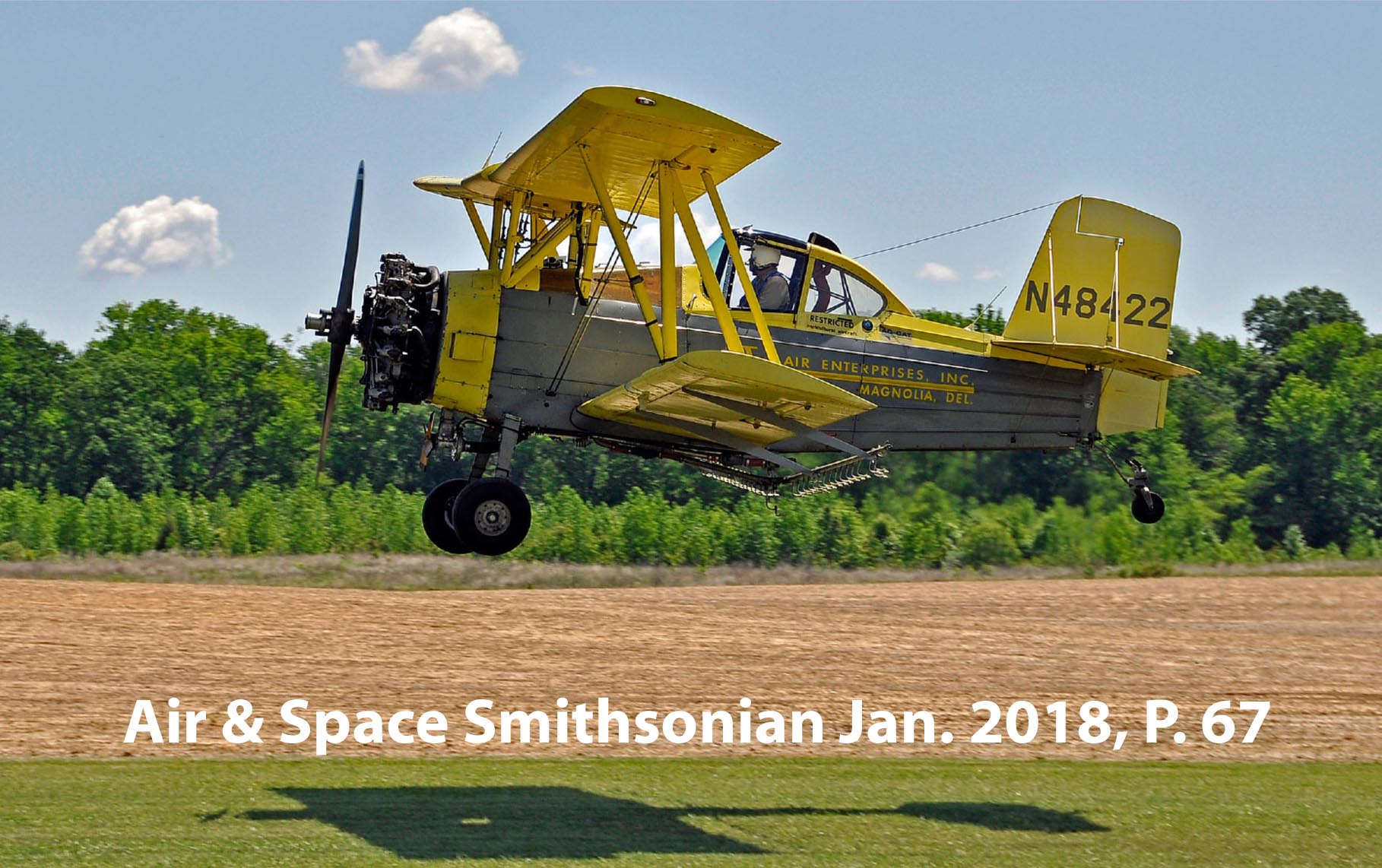 Occasionally Massey receives recognition in the form of our photographs being included in magazine articles: Air & Space Smithsonian Dec. 2017 — Jan. 2018 issue features a photograph in the article "The Wasp's Great Leap Forward" by George C. Larson." The caption (p. 67) states "Long after the last one rolled off the assembly line in 1960, Wasps are hard at work today, particularly among agricultural aircraft like this Grumman Ag-Cat, flying in 2014 at Massey Aerodrome in Maryland." 
2017 Events:
15th Annual Chili Fiesta Fly-In, May 13th
Worst weather we've ever had for an event, a true Nor'easter blew in dumping 2" of rain. No one flew in but despite the weather, the faithful drove in and we had a good day with a little chili left over. It was less crowded AND less stressful for the volunteers who were able to keep up with demand at the buffet table. It was nice to be able to stop and have a relaxing conversation with the guests.    
      We have no rain date because of the experience at our very first Chili Fly-In in 2003, which was rained out as well. That time people came both days (by car on Sat. and planes & cars on Sun.). Not knowing what to expect, we hadn't planned on doing it both days so we improvised. But we decided that, in the future, we would just accept the hand that Mother Nature dealt us on the ONE scheduled day.
     The day after was picture perfect for Nick Mirales' scheduled noon Stearman ride. Nick was greeting a young couple as they entered when the gentleman immediately pivoted around to his partner and told her in a very serious manner that he hadn't been honest with her about why they were here. She was getting a biplane ride as a birthday present! She drew up her hands in shock and whispered "but we said we weren't going to exchange presents". It felt like Reality TV at it's best except that this was truly for real. She hugged him in excitement and it was heartwarming to witness. We had no hint he had planned a surprise birthday present. They both ended up taking rides and loved it. 
     Later that day, a retired couple was touring the museum, when the wife noticed the "Biplane Rides" poster. She mentioned that she would like to take a ride sometime. We told her that the weather right now was as good as it gets, and she decided on the spot she was going to go for it. She took a full hour ride, afterwards stating that she could do it all over again. These are the moments that make it all worthwhile.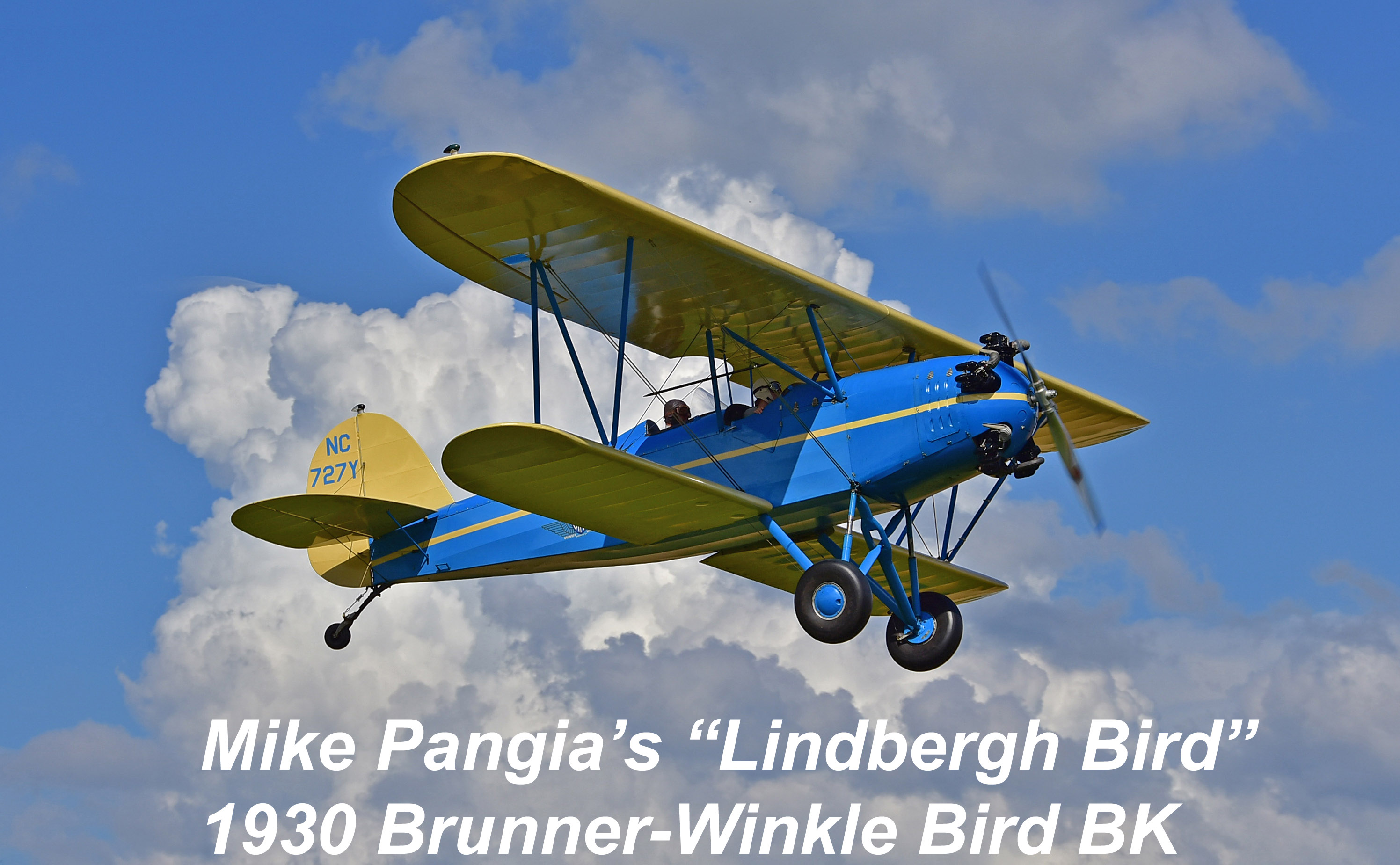 46th Antique Airplane Fly-In, June 17th (Former Horn Point Fly-In) Conducted by Potomac Antique Aero Squadron (PAAS).
Yes, the weather hurt us again with only 20 planes flying in.  Despite that, it was still a very satisfying day. Heavy fog early became a low ceiling until we started seeing some blue patches around 10:30. As is often the case, there was rainy weather all around us, yet we remained dry. 
     Planes trickled in and finally the eventual award winners arrived with Mike Pangia's Bird bringing up the rear. PAAS postponed ending the judging to accommodate the stragglers. Many locals drove in, filling up the parking lot and keeping the Millington Fire company food stand busy. The weather cleared from the south with the heavy rains well north of us in PA. Joe Flood made it from South Jersey in his RV-4, it's hard to believe he does it in 15 minutes though. Eventually the sun came out, surprising some of us with a real sunburn.
     Massey Aerodrome had initiated an award of it's own for 2017 – The "Massey Choice Award" from the Massey Air Museum presented to the airplane that best exemplifies the Spirit of Grassroots Aviation. 
     This is in addition to the Awards from the Potomac Antique Aero Squadron. Our choice was an easy decision, we unanimously chose the 1930 Brunner-Winkle Bird BK (N727Y), belonging to Mike Pangia. This plane has a special attraction for us, beyond it's history, because it was restored not that far from here by Joseph & Anna Fichera of Stevensville, MD (Kentmorr Air Park). This is the actual airplane that Charles Lindbergh bought for his wife, Anne Morrow Lindbergh, in which he taught her to fly. It had the reputation of being an "honest handling plane."
Ham Radio Operators' Field Day, June 24th – 25th (not a Fly-In) 
Kent Amateur Radio Society 24 hour emergency communications demo in conjunction with Kent County Maryland first responders. 
Bi-Plane Fly-In, July 22nd  The hot day started with a rush of arriving aircraft and spectators. Unfortunately, few biplanes (8) were in attendance. Lunch was provided to the Biplane crews and several participated in the short distance Poker run. We will hope for better attendance this year.
9th Vintage Sailplane Rally, Aug. 19th-20th 
Good weather prevailed on both Sat. & Sunday. Temps in the mid to upper 80s; Sunday, with lower humidity, had no clouds so lift wasn't as good as Sat. We're left to blaming the Monday eclipse for keeping VSA members away. Thanks to Kristin Farry of Madison, VA for bringing her Schweizer SGS 1-26A & Gerry Wild of Lansdale, PA for bringing his Hütter 17.  Bob Dierker sold about a dozen rides to visitors in his Schweizer 2-33 while Rusty Lowry provided tows in Massey's Cessna 182. Kristen Farry got a good ride on Sat. (+1.5 hours).         
     As Gerry Wild prefers a slower tail wheel tow plane for the Hütter, John Williamson suggested we use his Bailey-Moyes Dragonfly on Sunday. With only a skid (no wheel) it took a combination of soapy water and a little rocking to break the Hütter loose. Once it  started to move, the Dragonfly had no problem towing, as it was designed and built as a hang glider tug.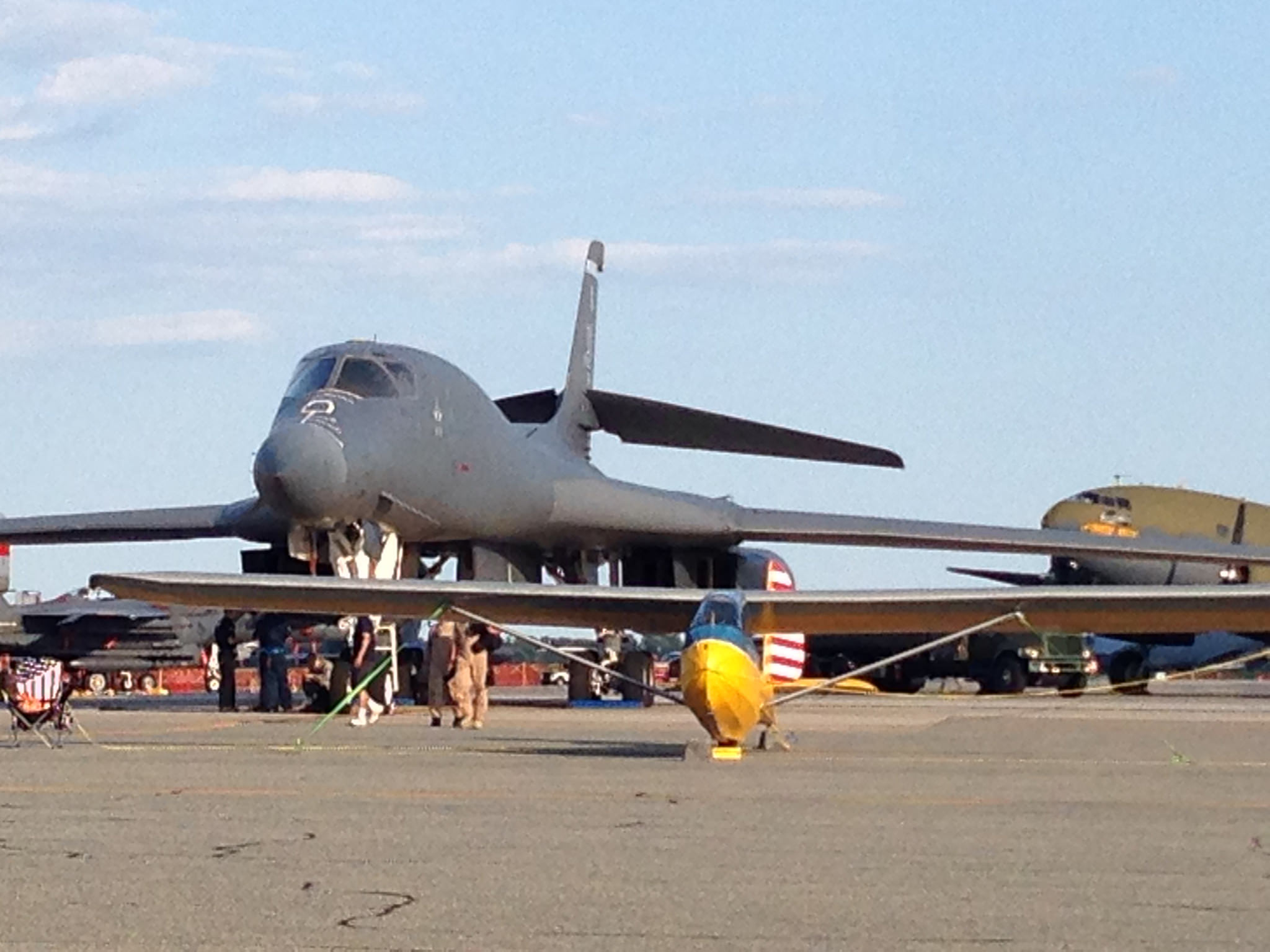 Thunder Over Dover Air Show Aug. 25, 26 & 27                                                               Massey Air Museum participated in the 2017 "Thunder Over Dover" Air Show commemorating the 70th Anniversary of the founding of the U.S. Air Force as a separate branch of the military on September 18, 1947. Rusty Lowry used our Cessna C-182 to tow Bob Dierker in our Schweizer 2-22 glider to Dover AFB for display. Rusty also towed the USAF Academy Aerobatic Demonstration Team glider to altitude with our C182 on all three days for their air show routine. Bill Dilling accompanied Bob & Rusty and passed out Massey brochures while answering questions about our glider. We were glad to be able to attend the show and help out the USAF Academy Aerobatics Team which had driven out from Colorado. We got good exposure to the 100,000 show attendees.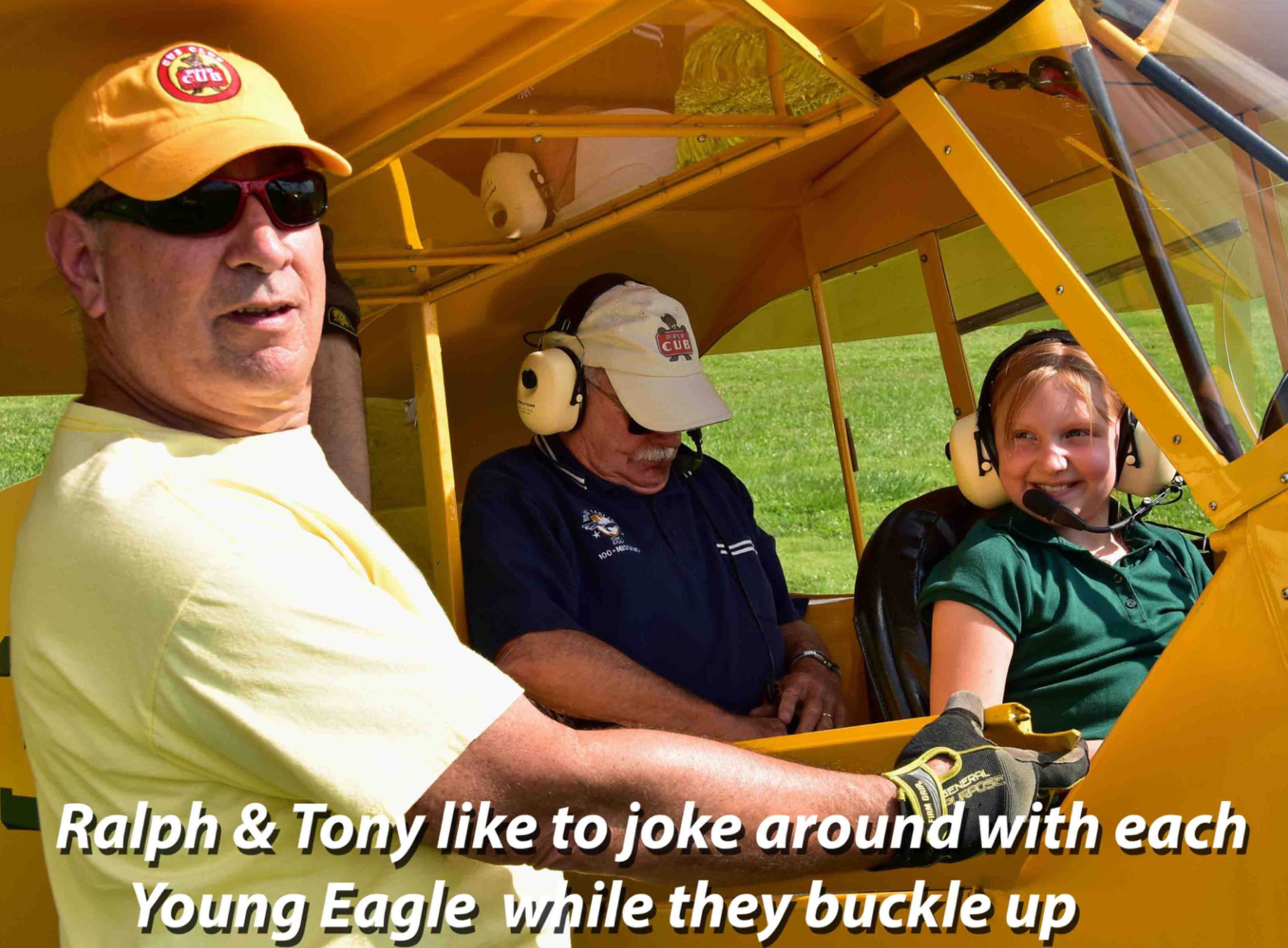 Young Eagles Day, Sept. 10th
Massey Aerodrome & EAA Chapter 1536 (Middletown, DE) again sponsored Young Eagles Day where "Kids Fly Free".  70 Young Eagles ages 8-17 received their "wings" (Flight Certificates) after a flight that often took them over their own houses. While some had trouble identifying their homes from the air, it seemed they could all pick out the Food Lion grocery store!  Five planes and pilots flew 70 new Young Eagles on a beautiful Sunday – thanks to Ray Lynn, Jeff Auen, Ralph DeGroodt, Bob Dierker and Rusty Lowry. The weather was perfect – sunny with temps in the mid 70's. Seeing the smiles of children experiencing their first-ever airplane ride was immensely rewarding! Melissa Gregory, Madeline Lambrecht & Amanda Lynn of  EAA Chapter 1536 Middletown, DE, conducted registration, assigning young people to the pilots & keeping the records. Joel Ivory, Bruce Lambrecht, Michael Gregory & Larry Keating of EAA Chapter 1536 organized the event and cooked hot dogs & hamburgers until late in the afternoon. The overflow crowd of parents and kids set a new record for us this year. You can visit our Young Eagles Photo Album on our website where you will see by the "body language" & broad smiles the joy this flight experience was able to bring to these young people.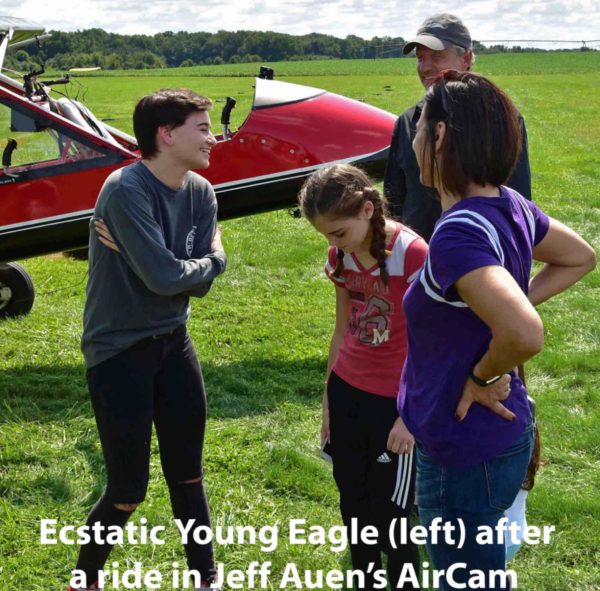 Galena Lions Club Car Show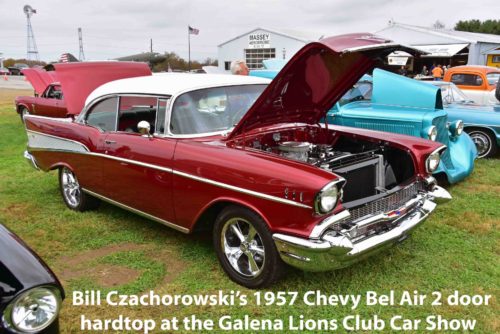 The first official Galena Lions Club Car Show (Nov. 5th) to be held at Massey looked like it might be a complete wash-out and yet 65 show cars turned out for the event on a dreary day. There was general agreement that Massey was a good venue and everyone wanted to come back next year!
17th Annual Open Hangar Party and Fly-In, Dec. 3rd 
Blue skies prevailed for another great December fly-In! After dawning rainy & foggy the weather cleared as predicted for the first plane to arrive at 10:20 AM. With a weather forecast of sunny & mild (mid 50's) we were thankfully ready for the expected onslaught that finally arrived only slightly delayed. As usual, the grass was firm & dry for the more than 150 guest planes that arrived by 1 PM. Who knows how many more pilots were discouraged by the early weather and chose not to come? There were probably over 150 drive-ins and the local car club had a good showing despite the initial wet roads. December weather has proven surprisingly reliable for us. We want to express our sincere thanks to the many volunteers that made this a success – both in the kitchen and on the field! Special thanks to Carol Pearson, Irene Hooker, Sheila Williamson, & Cecile Casson. Thanks to our many friends that provided food items, it seems we can always use more entrees as attendance keeps growing for these events.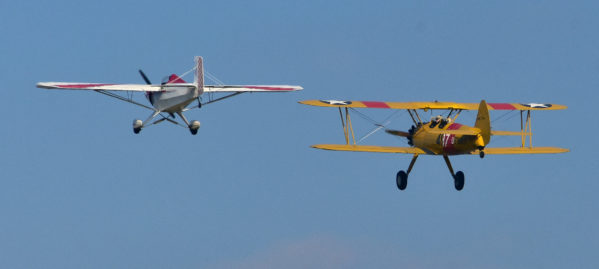 Massey has truly been blessed…  the ten-unit tee hangar is happening! The concrete pad and foundations were poured before the Open Hangar Party, the steel skeleton was erected by Christmas and we anticipate the roof and siding will be completed around the time you receive this missive. Rusty Lowry learned that Salisbury-Ocean City Airport was demolishing some older tee hangars to make way for a new corporate facility. Massey Aerodrome was able to acquire the hangars, dismantle, and move them. We hired a contractor to do that and had hoped the same contractor would reinstall the ten-unit one for us, but first we had to get permits from Kent County. Permits required a survey, engineering and plans. Robert "Buck" Nickerson, Extreme Measures, Land Surveyors, Chestertown, MD did the survey plan and helped guide us through the permitting process. Kent Co. Planning & Zoning was very cooperative as were all our neighbors, we got no objections and even got letters of support. Jim Douglass used to marvel how it seemed that whenever Massey was in a jam someone unexpected would show up, unannounced, to save the day; our guardian angels he called them.
     The first angel was Bill Czachorowski (Zach Excavating, Inc., Smyrna, DE), who back in 2001 graded the runways originally – saving us from attempting the impossible with a borrowed little dozer. Zach stepped up again to put our hangar pad on-grade (Gullwing Contracting called it the best, most accurate grade they'd ever received when they poured our concrete floor).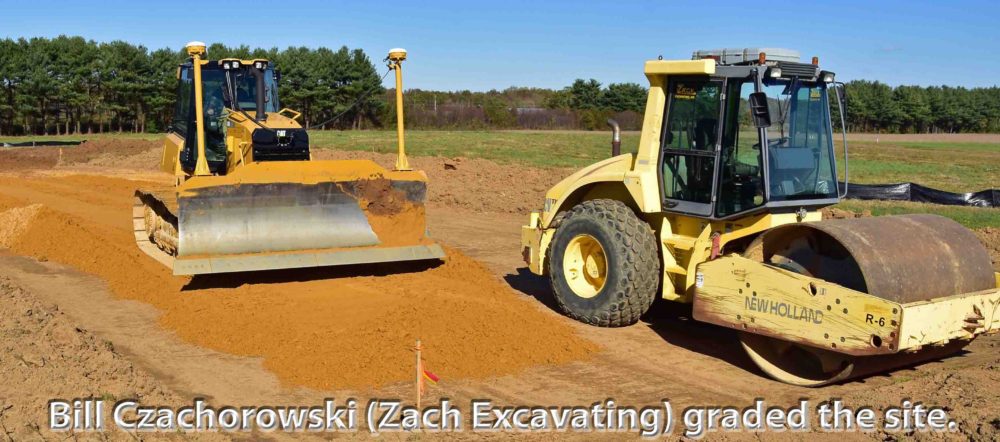 Now the fun begins…the steel erection contractor that we were planning to use for the assembly was unable to commit to the job and we were left searching for a path forward.  
     But just when it looked like our luck had run out, Nick Mirales picked up the ball and ran for the goal line. Nick is an aeronautical engineer – not a civil engineer but he took on the responsibility of measuring the foundations at Salisbury, solicited and hired the civil engineer and concrete contractor, ordered hardware (1000's of nuts & bolts, screws, roof sealant, paint etc., etc.), essentially doing the job of a General Contractor, including "pusher". It seemed even Nick was worried about the anchor bolt layout but everything fit together with only the normally expected amount of forced alignment. As with most major projects at Massey, John Williamson has had an essential role. John designed and fabricated new door roller tracks, helped Nick repair/fabricate numerous damaged parts, is assembling the doors and operated the Fork Lift/TeleHandler required to move and place all the steel. Yes, we erected the steel OURSELVES, no mean feat for a bunch of novices!     
  There was one exception who wasn't a novice. Again, out of the blue, just the right person showed up. Larry O'Donnell introduced himself before the Open Hangar party to volunteer for anything we needed. He brought his own Gator to the Fly-In but most importantly he offered his scissors lift and help to erect the steel, scheduled to start the next week. John Williamson was able to borrow a Telehandler starting Dec. 5th but we had expected to have to rent the scissors lift. In addition to the lift, O'Donnell brought an expertise and enthusiasm that made the job go more smoothly – almost, sort of, but not exactly fun. The steel erection crew varied from 6 to 10 with special thanks to Larry O'Donnell, Larry Folsom, "Sarge", Richard Sears and all the usual suspects from Massey including: Don Hooker, Jan Tone, Paul Kelsch, Tony Saienni, Hans Hochradel, Jack Williamson and the six airport partners.  
     Volunteers are essential to making Massey a success and we need YOU. If you have ever considered getting involved, we have a place for everyone. Sure, it may be uncomfortable until you get to know everyone, but we are a diverse group and everyone fits in. Whether you are a hands-on builder or more the academic, there is a place in aviation here at Massey for you. You will enjoy the conversation at lunch and the satisfaction of completing a task, be it mowing the grass, painting a building or installing fabric on a wing.        
    Our mailing list has been growing for 13 years and while we do update it after each mailing, we want to be sure we are only mailing to those who are truly interested in Massey. If you wish to continue to receive our mailings (but you are NOT a member) we ask that you contact us by Email or snail mail to confirm that you do wish to continue to receive our correspondence. We are happy to include all those who love & appreciate grassroots aviation.                     
     EAA Chapter 1536 meets at Massey Aerodrome the second Saturday of each month at 10:00 AM. Prospective EAA members are welcome to attend – just show up & introduce yourself.   Email: eaachapter1536@gmail.com Website: www.facebook.com/eaa1536
Glider Rides: Contact Bob Dierker at 410-699-1697 or the airport at 410-928-5270. Email: email@masseyaero.org
Biplane Rides: Contact Nick Mirales at 410-535-4136 or Email: flyingfun@biplaneairtours.com   Website: www.biplaneairtours.com
     We were saddened to learn of the passing of fellow aviator, Delbert (Dell) Coller on Nov. 22, 2017. His "The French Connection" Cap 10 was based at New Castle Co. Airport.
2018 Events will include the: 16th Chili Fiesta Fly-In – May 12th; 47th Antique Airplane Fly-in – June 9th; Biplane Fly-in July 21st; Vintage Sailplane Rally – Aug. 18 & 19; Young Eagles Day- Sunday Sept. 9th; Galena Lions Club Car Show – Sunday Nov. 4th; and the 18th Open Hangar Party & Fly-In – Sunday Dec. 2nd 
See our Website Event Calendar for latest updates.
     Did you know that you can find your airplane in Massey's Photo Library? It's fully searchable for all words in the captions – find your plane by your name, model or N-number, etc.
    We wish to extend a heartfelt thank you for the dedication of all the Museum members and the cadre of volunteers who keep us flying.
     The Airfield partners along with the Museum Board, promise to serve as custodians of the grassroots American aviation tradition which began with the Wright Brothers and continues to this day at Massey.
You can help Massey Air Museum, Inc. when you buy on Amazon by starting at Amazon Smile. When you shop at Amazon Smile they will give 0.5% of your purchase price to your selected charity. Just start at smile.amazon.com instead of amazon.com and select Massey Air Museum, Inc. as your charity. Your Amazon price remains the same. (Add Amazon Smile to your Favorites).
     This is our annual appeal for your continued support. Massey continues to grow and improve thanks to aviation friends who remember and appreciate history while recognizing the difficulty of maintaining that link to our past. We are here working and restoring aircraft practically every day. Please stop in for a visit.
FYI: Museum Membership includes "Museum Aviation Fuel Club" privileges.
Massey Air Museum Directors: Robert R. Dierker, William Dougherty, Larry Folsom, Don Hooker, Wilson R. (Rusty) Lowry, Nicholas Mirales, Donald W. Sloan, John Williamson.
     If you have an interest in preserving Grassroots Aviation at Massey, please join us with your tax-deductible membership now. We have enclosed membership cards & a return envelope for current and past members with the hope that you will renew for 2018.
Mail your tax-deductible contribution to:  Massey Air Museum, Inc., 33541 Maryland Line Rd., Massey, MD 21650.  CONTACT: John Williamson, Airport Manager,  410-928-5270   Email: email@masseyaero.org   Website: www.masseyaero.org
REMINDER for Non-Members: Contact Massey to request staying on our Mailing List. There is no-obligation but we want to know that you do value hearing from us. Send us an Email at: email@masseyaero.org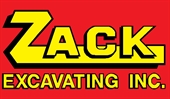 Thank You Bill Czachorowski (Zach Excavating, Inc., Smyrna, DE) for your support of Massey Aerodrome and our new Tee Hangar project.
"A society grows great when old men plant trees whose shade they know they shall never sit in."   – Greek Proverb
(Submitted by Bill Dougherty 1/15/18)